We are currently living in a time of high uncertainty. More than ever, our minds are outrunning our legs. For many people, this means the scales of mental and physical wellbeing have tipped increasingly out of balance.
We're used to hearing what it means to be physically healthy, but what does it mean to be mentally healthy? According to the World Health Organization , being mentally healthy is an individual's ability to cope with normal life stressors, work productivity and contribute to society.
The problem is that an individual's opinion on whether or not they are functioning to a society standard, is subjective. So how do we effectively '**check in'** with ourselves and speak intuitively? How do we stay kind to ourselves and listen to what our body needs?
In this article we will give you tips on how to take care of one's physical and mental health during coronavirus pandemic.
In Other Words-How Do We Stay Mentally Healthy?
Unfortunately, there is no tried and tested step-by-step guide to ultimate happiness, but there are tried and tested actions we can take to support our physical and mental wellbeing and help us to lead much happier lives.
Creating reminders to put down your mobile phone for periods of the day can increase productivity and concentration in other areas of life. In addition, exposure to screen glare suppresses melatonin and delays the onset of sleep.
Instead, creating to do lists, working through tasks, speaking to loved ones and reading a book can be much more nurturing for the mind. Especially now that working remotely has become 'the new normal', it's very easy to stress out, it is important that you take time off your screens.
Balance Work and Private Life
According to a survey carried out by Monster , 59% of workers find themselves taking less time off than they normally would due to coronavirus. And according to the same survey, 69% of workers are experiencing burnout symptoms while working remotely during the pandemic.
Working remotely can be good for your mental health if you learn how to take advantage of the situation and make health and wellness a bigger focus in your everyday routine.
These are great ways to wind down the manic mind. Meditation has been proven to take the body down from the physiological effect that stress has on our body- otherwise known as fight-or-flight.
Apps provide a guided option for anyone unpracticed in meditation. If this is not an option, breathing exercises, looking in to a candle flame or repeating an affirmation with eyes closed are all effective techniques.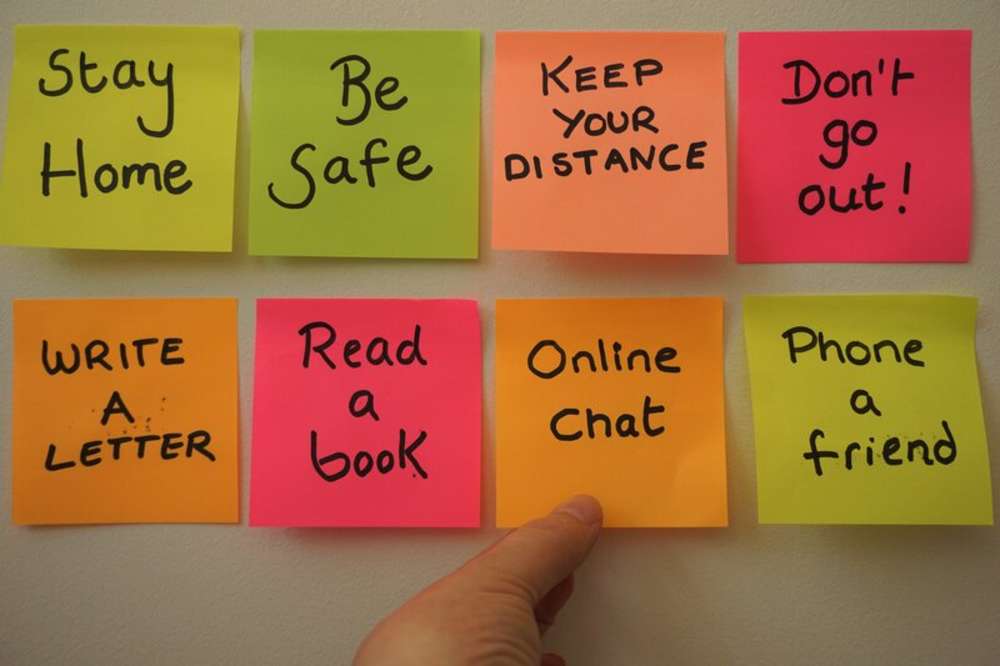 By becoming more aware of our thoughts and feelings, we can begin to unpick existing habits and make more positive changes. It serves as an effective way to see thoughts objectively in front of us.
This also allows us to re-visit periods of our lives, establishing learned patterns of behavior and their triggers.
When was the last time you read a book? Reading has been proven to lower the heart rate and increase brain power. Even better, if we highlight passages of information as we read, we digest information more effectively and we are more likely to action advice accordingly.
Exercise Is Good for Your Mind
Do you know how much exercise helps mental health ? We store stress in our muscles, and if we remain static for long periods of time, this can present itself as a physical ailment. Stretching areas such as our hips, glutes and lower back releases stress and is also deeply relaxing.
All forms of exercise release endorphins throughout the body, which improves mood and sleep and has many positive physiological effects on the body. Walking, yoga or going for a run are all great ways to get the body moving.
Increasingly, cold showers have been used as a great technique to increase circulation and improve mood and energy, stemming from the shock factor of cold water on the body.
The use of essential oils can also be deeply relaxing in a hot bath to soothe muscles before bed.
Create a routine. Having a routine creates purpose, which in turn improves mood and wellbeing. Creating space in the day to implement activities, such as taking a walk or eating breakfast, allows us to introduce positive sustainable habits that are good for mind and body.
Utilizing some of these techniques acts as a positive starting point to a happier mind and body, in a time where we need it more than ever.