Herbody Helps Women Reach Their Fitness Goals with Personal Trainer Software
Ksenia Beckmann went to FIBO with one idea in mind: find the different tools to answer her needs. That's when she discovered Virtuagym, which checked all the boxes.
The Story of Herbody
Herbody is an ambitious fitness lounge in Frankfurt, Germany, dedicated to women. Their services are all about shaping a great body through personal coaching or small-group training sessions. Ksenia Beckmann, owner of Herbody, is a competition-winning bikini model who aims to help other women get in winning shape for competitions. Her biggest challenges were to develop a solid client base (since she only recently opened her studio) and deliver the promised results. Ksenia Beckmann was looking for a professional solution to help her make the most of her new studio. As a determined and ambitious young woman, the last thing she wanted was to lose time with tedious tasks that would only slow down her progress. The priority, after all, was on improving her services, not filling in paperwork. One of the main features Beckmann needed was to smooth over her administration process, giving her a clear payment overview. Furthermore, she felt the need to communicate more easily with her clients – client relationships are one of the things she values most in her work. Finally, Beckmann was on the lookout for a solution to enhance her coaching and nutrition guidance.
My clients are thrilled about the options.
Ksenia Beckmann
-
Owner & Personal Trainer,, Herbody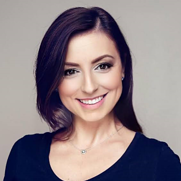 In Search of a Fitness Software Solution
Ksenia Beckmann went to FIBO with one idea in mind: find the different tools to answer her needs. That's when she discovered Virtuagym, which checked all the boxes. "I felt I could make my plans happen with Virtuagym," says Beckmann. The fact that Virtuagym offered administration tools, communication solutions as well as a coaching and nutrition guidance system ended up convincing her to work with us.
Expanding Herbody's Communication Capacity
Since she started working with Virtuagym, Beckmann has already seen a 10% expansion of her client base, with clients coming in from cities other than her base of operations. This is partly thanks to the communication tools provided by Virtuagym. She now communicates more easily with her gym members, coaches them with training plans, and follows their calorie intake with the nutrition app. And her happy members are spreading the word that Herbody works! After introducing Virtuagym in her business, the fitness apps were very well-received by her clients. Many of them tend to make use of Herbody's PRO memberships in order to access more features, which adds a new source of revenue to Herbody's business model. "Clients are excited and very positive about the new possibilities, from being able to get body measurements and tracking progress to giving their trainer insights in what they eat." A brand new dynamic now inspires Herbody, with a deeper connection between Beckmann and her clients, as well as amongst the clients themselves. "For me, this is the perfect tool to accompany my clients towards their goals," says Beckmann.
Guiding Women Towards Their Fitness Goals
Herbody is more successful than ever since starting with Virtuagym. Some of her more "desperate" clients, who had already tried to work out with other personal trainers, finally achieved their objectives thanks to Herbody's services – with a little help from Virtuagym. She feels confident to build on her vision for Herbody's future: a franchise system with several trainers that follow Beckmann's concept. She is convinced that it will be possible with the help of Virtuagym. "Virtuagym helps me to guide women towards their goals, and all of that from a single source – non-stop!"
Discover how Virtuagym can help your fitness business boost efficiency, increase revenue, and make your members happier. Schedule a call for free and without obligation, and learn about what our software can do for your business.