Complete Coaching
Software
First-in-class and complete coaching system for building workouts, progress tracking with integrated wearables and exercise & nutrition coaching.
Connect
with Your Clients
Provide your clients with an unparalleled fitness experience with 24/7 service through your own app, fully customized to your businesses and brand. An essential tool for any modern fitness business!
An App to Fit Your Needs
Customize the app to fit the look and feel of your club and optimize it for your business needs. No coding needed!
Let Your Brand Stand Out
Attract more clients by differentiating yourself from your competition, increase brand visibility and engage with your existing client base.
Offer Your Clients More
To be successful in changing their lifestyle, clients need support. With your app, they will feel motivated with progress tracking, the activity calendar, and class bookings
Complete
Coaching
In The Palm of Your Hand
This is the complete toolset that fits the needs of your fitness business to a T. It enables you to personalize your client's experience further, or to give them more freedom to handle their planning and workouts. Whatever your ambition, Virtuagym's Coaching App has you covered.
Complete Control of Your Business
Coaching, membership management, health tracking, and scheduling in one easy-to-use mobile app. Meet the complete software solution for you.
Stay Connected With Your Clients
Create more touchpoints and reduce churn by empowering you to book classes online, access training plans, and track their progress.
More Business, Less Hassle
Increase your revenue with in-app up-sales, sell online classes and memberships, and run promotional banners: engage your clients and grow your business!
Easy-to-use Nutrition Coaching
Software
Eat healthy, feel great. Together with Virtuagym Fitness, you'll have the best combination of diet & exercise available on mobile for your clients to access whenever they need.
Nutrition Guidance
Personalized nutrition plans with live calorie and macro tracking, custom meal plans, and an extensive food database – all you need to guide your clients professionally!
Customizable To Every Goal
Clients and coaches can develop custom nutrition plans based on different diet types such as low-carb or personalized macros.
Develop Healthy Habits
Keep track of everything consumed with the food diary powered by an extensive food library. Assign nutritional plans, keep track of burned calories and which macros were hit.
Create, Assign & Go With the
Workout Planner
Say goodbye to paper, and meet instant, versatile and scalable workout plans you create through the Workout Editor, send it to your clients' phone and track their progress.
6,000+ 3D-animated activities
Fast, Easy & Scalable
Progress Tracking
Improve Your Clients'
Nutrition Habits
Offer your clients the complete package: quickly create meal plans, run analysis and assign nutrition plans for happier and healthier clients.
Easy-to-Use Food Diary & Nutrition Database
Create custom meal plans
Suitable For Every Goal
Help Clients Crush Their
Goals
Celebrate no-scale victories with your clients, driven by clear insights and comprehensive data. Simple and comprehensive dashboards lift your fitness experience to the next level, empowering your clients to take control of their health.
Statistics For Everyone
Easy-to-read graphs and dashboard help you and your clients easily understand and visualize their progress beyond the number on the scale.
Insight Into Trends
Understand the trends of how your clients is progressing and personalize their workouts based data rather than feelings.
Metric-driven Choices
Use the 250+ measurement metrics available to build a complete overview of your clients' habits.
Your Ultimate
All-in-One Platform
One place to coach, manage and engage your clients and grow your business: perfectly tailored to your business needs. Get your fitness business running A to Z with All-in-One software for Virtuagym.
Recommended blog
Making An Online Fitness Course: A Practical Guide
Making an online fitness course is essential because members have come to expect gyms and fitness studios to provide online courses. The fitness industry is becoming increasingly competitive, and the number of fitness-related businesses offering online courses is only getting bigger.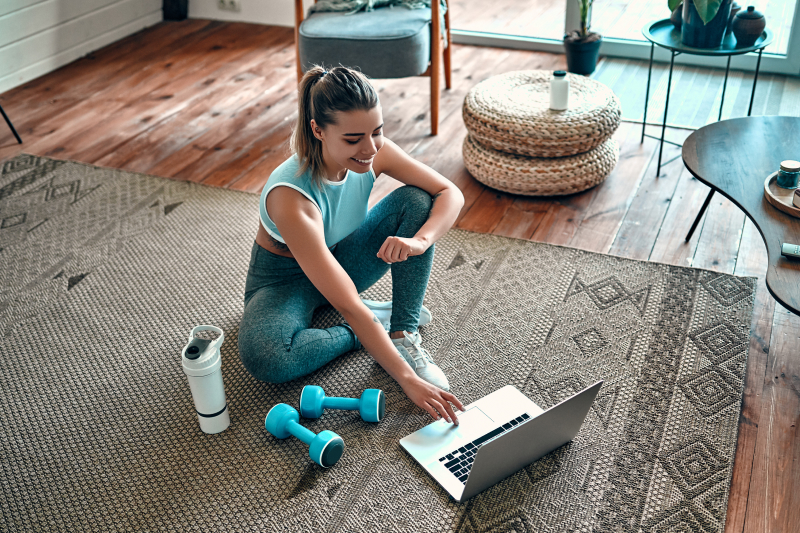 More than
9,000 businesses
trust Virtuagym
Discover how Virtuagym can help your fitness business boost efficiency, increase revenue, and make your members even happier.