The global economy is fighting a recession caused by the COVID-19 pandemic. This has led to a switch of mindset: employees' health & well-being is more important than ever .
While we are trying to adapt to the new norms in the workplace, employee wellness is top of the priority list of the post coronavirus workplace strategy. Our routines have been changing due to the pandemic, but you can see the changes as an opportunity to prepare for a "new normal" in the workplace.
When thinking about going back to the office and complying with the different types of regulations, it's also important to focus on the attitudes of your employees.  For most workplaces there's definitely going to be hybrid models in place, where you will see people wanting to go back into offices, as well as some people that don't want to.
Does it mean that working from home is the new normal? Not for everyone. In this article we will discuss the key areas to focus on your wellness program when preparing the return to work.
Find out what we can do for your employees
How have employees' needs changed over time?
The hybrid model is ideal to manage situations like this where there's not one clear direction. Of course there is going to be a higher percentage of remote employees than before the pandemic, therefore it's important that you rethink your wellness program and offer support programs virtually, as well as on-site.
We have been talking about how to provide mental wellness support for your corporation in the age of COVID-19 here . One basic rule is that if you are building a program that's going to be a solution for the employees you need to be very clear on how needs have changed over the past few weeks and months.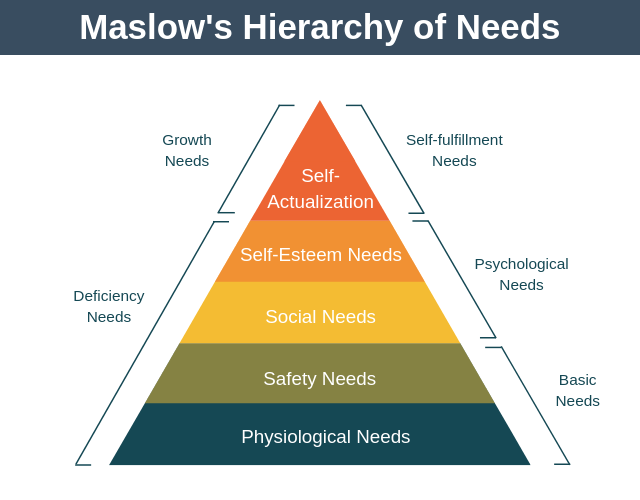 Following Maslow's hierarchy  we can explain the different needs better, and more specifically how employees' needs have changed. When you think about what has happened to the corporate workers over the past three to five months, the first thing you have to keep in mind is what was the situation like back in January.
Most corporate workers were likely in a secure spot in January, thinking about self-actualization and self-esteem - at the top of this pyramid - because they had a good job, and their family and security was in place.
Obviously there are exceptions, but over that period of time people's needs have changed. They have now stopped worrying so much about self actualization and self-esteem and they're now worrying about whether their job is safe, if their families are healthy and how they are going to cope with the new reality.
When you put that in the context of corporate wellness, it's important to reframe what you're actually looking at in terms of measurables because it's about meeting them where they're at and making sure they feel safe and secure in the environment that you're creating.
Where does your population fall on this pyramid? Discover your employees' needs and address them with employee wellness solutions that meet them there.
Does working from home increase productivity?
The remote workforce is working substantially more at home than in one specific location. On average a remote worker works in excess of their normal time. According to a survey carried out by Airtasker , remote workers 'worked 1.4 more days every month, or 16.8 more days every year' than people who worked in an office.
As Business News Daily reports , 29% of the workforce is gonna be struggling with that work-life balance. Another potential issue is that 31% of the remote workers affirm that they've even had to take mental health days just because they're unable to disconnect from these programs.
Many people are working more and feel the need to over-perform because they're stressed out about job security etc, so you need to really focus on stress management and mental health since it's a huge aspect and definitely something on the top of everyone's mind
Employees start to recognize the value of their health and their wellness. As an employer we suggest that rather than putting on a one-size-fits-all program, you have a specifically tailored option. Ask your employees to tune in to the kind of work environment that makes them feel most comfortable over the long term.
How many employers are looking at online wellness?
Some popular tech companies are leading 'The Work-From-Home Revolution', as Forbes describes it , announcing that workers who don't need to be onsite can work remotely until the end of the year.
Returning to work won't be as easy as we think it will be, and it might be difficult for some. When discussing heading back to the office, going for some hybrid model or going fully remote, consider these three buckets:
There are people that love working from home and want to stay there. These employees appreciated the chance to avoid long commutes and spend more time with their families
There are people that missed the social interaction in the office and are waiting to get back
There are people who like the blend: a couple of days in the office, a couple of days at home.
Bear in mind that going back to work is going to be a new adjustment for everyone. Just like transitioning to work remotely at home was challenging, heading back to work could be just as tough.