Owning a business isn't as easy as you might think. When opening a new business, you'll probably end up facing some challenges that might discourage you, make you feel vulnerable, rethink your choices, and like you want to give up.
We aren't going to let that happen! In this article, we are going to discuss how to successfully run a business by turning the greatest challenges into opportunities for growth and success.
3 Essentials to Make Your Fitness Business Rock
When you decide to run your fitness business, it takes lots of courage and passion to set everything in motion. We've summed up three things you can't forget when going all-in on your new venture.
You Have to Love Whatever It Is You're Doing
Since most of the time is going to be spent by yourself with your own thoughts, if you don't love what you are doing, don't feel passionate, or don't give your 100%, it's gonna be hard to hype yourself up all the time.
Make Your Money Work Hard
Opening up your own space means investing and managing your finances correctly. This is not only about the upfront spend on the facility, but also money spent on acquiring new members , offering the best experience for each member, and making sure your fitness equipment is acceptable to the clients.
Ask for – and Accept – Help
Last but not least, you've got to ask for and accept help at some point in your life. If you are lucky enough to meet somebody with more experience than you, either in the business or outside of the business, make a move and reach out to them.
Let's dive into the most common challenges you have to face as a gym/studio owner or personal trainer when starting a fitness business.
What Do Gym Owners Struggle With?
Among the myriad challenges faced by gym owners (and managers), the most common ones are facility maintenance, member retention, securing revenue, and managing staff. If you lift the veil further, you'll notice other little tasks that often fly under the radar, such as invoicing, filling out yearly taxes, and the works.
It's plain to say when it comes to what to gym owners struggle with, the answer is… well, a lot.
Compartmentalizing each facet of starting a fitness business will allow you to take things one and a time, and spread out the work in a sustainable way. Most problems gyms have revolve around a lack of planning in regards to business administration, marketing, and managing members and staff.
While multitasking is a given in starting up a fitness business, divvying up tasks is essential to overcome the challenges of opening a new business.
Ensure that you have a good marketing strategy in place , and turn to those who have a head for business to ensure that you set up a profitable business model for a gym that works now, as well as in the future.
For in-depth information about the challenges of opening a new business, give our blog series on Opening a Gym a read.
Starting Up a Fitness Business: Letting People Know About Your Gym or Service
So, you've found the perfect location for starting up a fitness business, and you have tons of creative ideas for your business plan. You've even got a marketing strategy and now you're wondering how do you attract clients to your business.
Solution
One of the best things that you can do to organically market yourself is to start in your local area and pick a niche market to promote in. Get familiar with hyperfocused marketing. This is a specific form of marketing that requires you to specialize in a single area that you want to thrive in.
For instance, if you love running, don't tell people about your 12-week strength training program. Instead, tell them about a running group. Engage with them by launching exciting new running challenges and reward their achievements within your community.
If stretching is your forte, tell potential members about a 10-minute morning stretch class that you're going to teach. Share with them why it is important for their well being and challenge them to participate in a 30-day stretching program.
Pinpoint specific issues in fitness and determine if your skills can bridge the gap. With hyperfocused marketing, you might go down a few avenues before finding your inch, but it will be worth it because your offering will be comparatively unique.
Quite simply, be specific and talk about something true to you. When you're passionate about something, you'll be far more convincing than any extravagant marketing strategy.
Finding the Right Business Model
One of the problems in the gym industry is the sheer amount business models there are. How do you choose the right business model for your gym, studio, or personal training service?
As a starting point, define the core values of your business and your unique selling propositions. Will yours be a budget service, mid-range, or luxury offering? Who is your target audience? All of this factor in when developing a business model.
We have already discussed business models for personal trainers in our blogs, but what about gym owners? Analyzing the pros and cons of starting up a fitness business in the current situation is an obvious point to consider.
The coronavirus crisis is not over yet, so your best (and safest) bet is to prepare a long-term strategy that will allow your fitness center to survive any circumstances. That's right; we're talking hybrid.
Solution
Having gym management software that allows you to digitize your workouts is a must these days. It will reduce manual labor and provide an easier way to manage your business both online and offline.
Many fitness businesses are exploring the option of having a hybrid model – even popular gyms that have historically been strictly brick and mortar.
But what does a hybrid business model mean? In a nutshell, it means that you can have physical location training combined with an online coaching feature that will allow you to keep your business alive if the pandemic strikes again and have to comply with health regulations.
To learn more about the subject, discover our tailor-made software to implement a hybrid business model for your gym.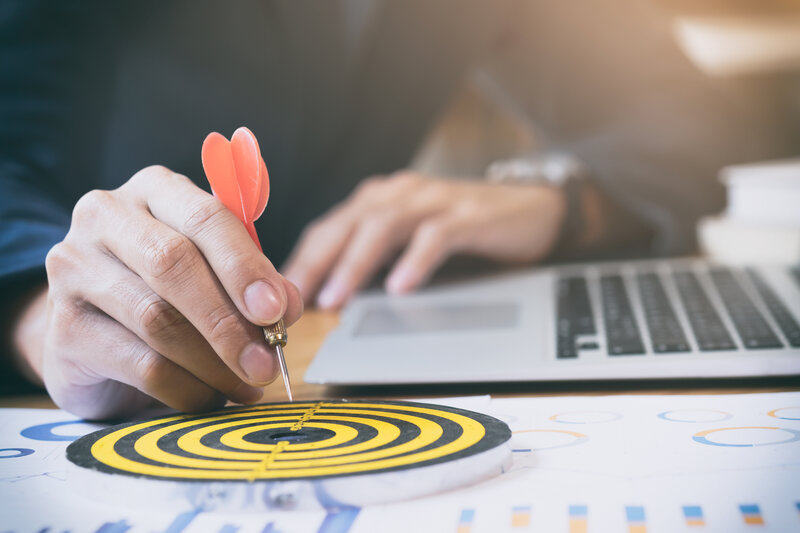 3. How Much Should You Invest in Marketing?
What do gym owners struggle with? Aside from the points mentioned above, allocating budget for different facets of the business is a core problem faced by gym owners.
Are you wondering how you can effectively market and recruit clients on a limited budget? Or, are you struggling to compete with all the free fitness content on the market, while at the same time convincing clients to belt out for your program?
We already discussed that hyper-focusing is the best way to make sure the community closest to you is your biggest supporter. But how can you handle your finances to ensure that you're reaching the right clients?
Solution
When it comes to recruiting new clients for your gym, setting up a sales funnel is a must. This allows you to cast a wide net and narrow your marketing efforts to small segments of people who fall through the bottom of the funnel. It's a money and time-saving method that all businesses use to garner customers.
To learn more about what a sales funnel is, and how you can go about setting one up, read our blog on why a gym sales funnel is exactly what you need right now .
Investing money in the right parts of your business will be an uphill battle between sales, resources, marketing, and more. But an easy way to manage this is by using gym management software that shows you where to focus your efforts.
When it comes to member retention, take a Retention Planner , for example. This is a software feature that lets you easily identify your at-risk members and act quickly with personal outreach to reduce churn and secure your monthly revenue.
Bonus: The Pros and Cons of Owning a Franchise Gym
Being a franchise gym owner comes with its own twist and turns – none of which are any less complex than problems faced by gym owners.
First of all, what is a fitness franchise and how does it differ from regular gyms?
A franchise is a license someone purchases that allows them access to a business's proprietary knowledge, procedures, and trademarks. The buyer (also known as the franchisee) can then sell a product or service under the business's name. There are some perks to this, including the franchisor, or larger company, paying up all start-up fees and annual licensing fees.
Most fast-food companies have perfected the franchise model, notable ones being McDonald's, Subway, and KFC.
When it comes to what do gym owners struggle with when opening a gym franchise, freedom is at the forefront. You'll have a set-in-stone rulebook to follow to ensure consistent service across the board, and you'll report to other people. Have an idea for the gym you're managing? Unless the entire gym chain implements it, you can't either.
There are definite pros and cons of owning a franchise gym, but it's worth examining your wants and needs before embarking on this journey. On one hand, the legwork is done for you – you only need to maintain it. On the other hand, however, it can be limiting if you have big plans for opening a gym.
Curious About Issues in Fitness?
There are tons of other ways to be smart about starting up a fitness business – especially in this economic landscape. If you're interested in knowing more about being a fitness business owner and want to learn from industry experts, give check out FitNation's weekly Lunch & Learn webinars.
Each week, a new guest speaker will discuss best practices and hot topics in the fitness industry. The best part? It's free to join!