Personal training is a business that is difficult to market or can seem daunting to approach. This is partly due to you earning your money from being at the gym with your clients, though in order to gather those clients you first need to market yourself. Personal training is a full time job. Whether you are spending time coaching your clients, creating exercise and meal plans for them or simply running your business, there is a continuous need to be on top of things. On the one hand you want to dedicate all your time to your clients, encourage them and motivate them to achieve their health and fitness goals. On the other hand, you are running a business – you have to keep track of your administration, take care of invoicing and payments and, more importantly, make sure clients are coming back to you and not seeking for alternative services.
Be More Than a Trainer
As a trainer you may have come to realise that developing a business is no joke, the time and effort you put into creating your concept is just as important as your coaching skills. As a fitness professional, the thought of marketing playing an important role in your daily activities had probably not crossed your mind till now, but it should!
Marketing becomes a vital element when developing your business – it all comes down to the way you brand yourself and make yourself stand out from your competition. Using the right marketing techniques will help establish yourself as a credible personal trainer dedicated to sharing knowledge and expertise within your community. Acquiring and retaining clients are often found to be the more challenging parts to having a gym business with marketing playing an important role if done correctly, so where to start?
My colleague Tommy already wrote  an article that provides you with thorough marketing strategies , which you as a fitness professional can easily apply in practice. The focus of this article will be about quick tips you can use to help boost your presence and engagement on Facebook.
Quick Facebook Marketing Tips That Will Get Your Name out There in No Time
Facebook has become the means for many people to gain information and share their views and opinions. It is the perfect tool for businesses to connect with their audience, everyone is on there, you should be as well. Here are 6 tips that will help get your Facebook page up and help grow your business:
1. Create Your Personal Page
If you don't have one already, what are you waiting for? You'll soon realise that having a Facebook page for your business is just an added tool to help grow your business. When creating your page, make sure to have a complete company profile with a full description of your business. Ensure that the information you provide differentiates your brand and is appealing to potential followers. Having a Facebook page will make your business:
Discoverable – You'll increase your exposure to potential clients and people looking for you will easily be able to find you
Connected – Once found, they'll be able to connect with you. Use this tool to have conversations with them and share relevant content to get them involved and create a meaningful connection
Timely – You'll be able to reach large groups of people frequently, with messages tailored to their needs[1]
Ensure to have a good profile picture that will make you stand out, one that represents your brand, viewers should automatically connect the two. Your logo, a photo of yourself at the gym, a photo of you with assisting a client would make a good fit.  Having a poor photo could turn people away, so make sure to always evaluate if your photo is working out.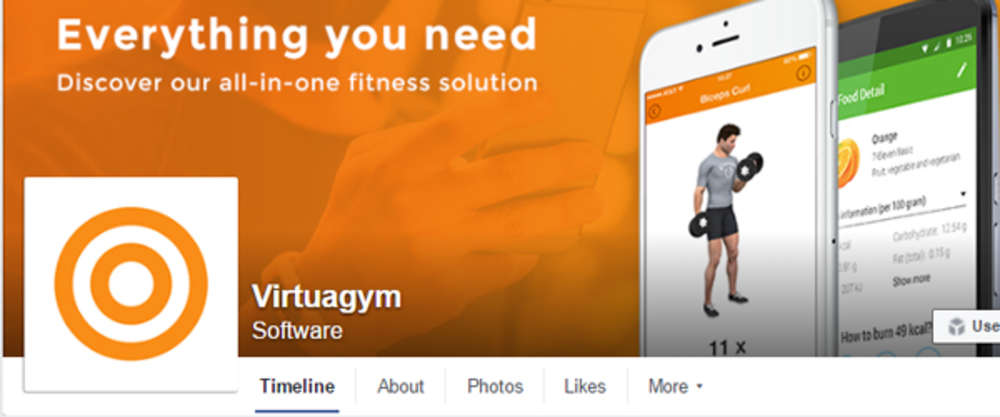 2.  Give People a Reason to Become Fans
Now that you've set up your page, it's time to start filling it with content. Sharing content is the best way to get your brand personality out there and show your audience what you and your brand are all about.
Share the success of your clients, use your page to motivate and inspire your audience to evoke emotional attachment to your brand. For example you can share the stories of your clients who achieved their fitness goals, explain the phases they went through that it wasn't always easy, but dedication and motivation pays off. Your audience will be able to relate to these kinds of stories with their own hopes of achieving health and fitness goals and will see who you are as a professional, dedicated and accessible.
To engage your fans, you'll need to choose the right tone of voice, to capture their interest and be sure to focus on what they want to hear and share. It starts by you having a clear understanding of your audience so you can tailor your message and create meaning from it.
To keep gaining reach and establish your business within a very competitive environment, think of joining relevant Facebook groups where you can share knowledge and information without promoting your brand. From this, people will see you as more than a brand but a professional giving concrete advice to help others achieve their health and fitness goals.
3. Be Online at the Right Time
Creating good content for your Facebook page is essential but won't make a difference if it's published at the wrong time and your audience isn't there to see it. If you want people to engage with your content, timing is an important element that always needs to be taken into account.
So when is the perfect time to post on Facebook?  A report based on 16 studies showed that:
9am, 1pm, 4pm – best times with the highest average of click throughs
Thursday & Friday – 18% higher engagement
Saturday & Sunday – 32% higher engagement
Posting at 3pm will get you the most clicks, while 1pm will get you the most shares.
Keep in mind though that these are generalisations. Every business is different with different audiences so it's hard to tell how accurate and relevant these results are for your specific audience. These should be used as guidelines but I also recommend you to observe when the activity of your audience is high, when people are engaging with your posts, when and what do they so will be able to judge for yourself and understand the times that work best for your business[2]. Facebook can you help with its tool called  Insights  that provides you with an overview of who your customers are and how they're connecting with your business.
4. Engage Your Community through Visuals
Having high engagement on your Facebook page is the key to success. This will increase loyalty amongst your audience and help increase brand recognition by increasing the reach of your posts.
To show your credibility as a fitness professional, you should share informative content in forms of posts that will be benefit your audience and connects to your identity. But information won't be enough. People use Facebook to entertain themselves as well, so spice up your content with photos and videos, as they have shown to be the most engaging types of content. Videos were shown to have higher reach and photos were shown to drive higher engagement and receive 53% more likes than a normal post[3]. Photos are the easiest way to grab attention as they take less effort to consume than text, but be aware that not all photos are made equal. Not only must you share high-quality images but remember that you are sharing to your audience, so making it relevant to them is a must!
Also, think of Facebook as another form of customer service. People on Facebook love to talk to real people and share their news and views, so make sure to be honest with them. Reply to their queries and respond to comments, including any complaints. You can also encourage discussion and feedback: having positive user-generated content is a very powerful endorsement for your business.
5. Facebook Ads
If you have a budget dedicated to marketing efforts you can consider experimenting with Facebook ads to reach more potential customers and retarget others who already showed interest by leaving their information on your page. This tool offered by Facebook will help you reach people based on their location, age, gender, their interests and allows you to choose the audience you want to see your ad. When selecting your audience, choose an objective based on the kind of results you want, like getting people to your website and select the traits that will help you reach the people who are more likely to care about your business.
Once your ad is created, Facebook does the rest of the job for you. When people are on Facebook discovering what's new with their friends and family, your ads will appear alongside these stories. Having ads can trigger action and also helps you with brand recognition, if friends see their friends liking your page, they will be more interested in what you have to offer.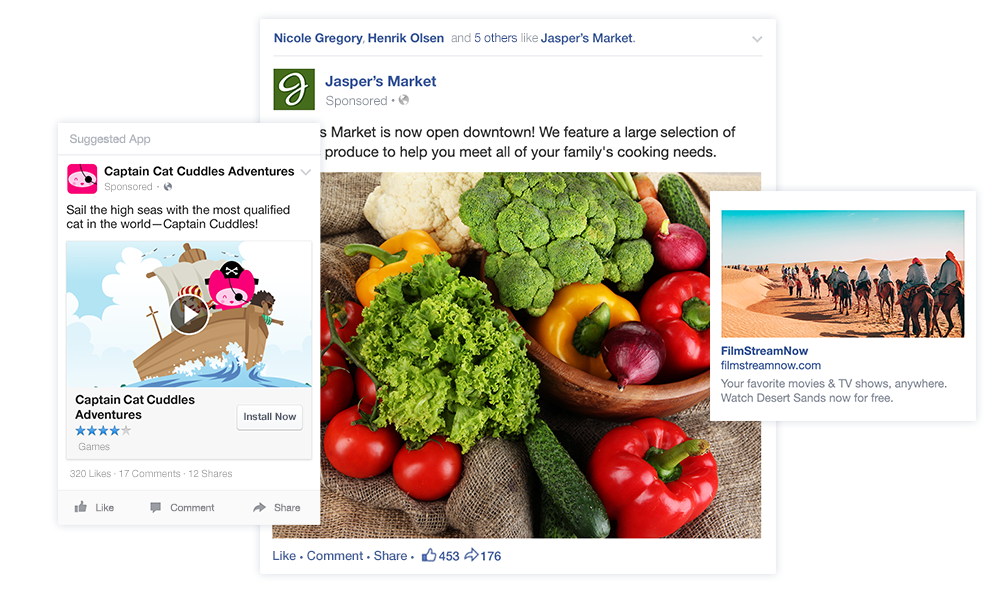 If your budget is tight, the good thing about Facebook ads is that you're in control. You choose your audience and budget and Facebook helps to optimise your ads to reach the people that are more likely to take action.You can edit your budget or stop it at any time.
6. Keep Your Fans Interested through Promotions
Now that your page is up and running and you're engaging your audience with great content another way to keep them interested is through promotions. Many people use Facebook to find special offers that aren't available elsewhere so, consider rewarding your Facebook followers by running contests, providing exclusive deals or even giveaways.
There are many ways you can launch a contest to get your followers involved :
Like to win – probably the easiest way for your followers to participate, ask them to like your post to stand a chance of winning.
Comment to win – Ask them a question and they have the chance of winning if they provide you with a comment to your question
Photo contest – ask them to share a photo with a relevant theme on your wall
There are certain restrictions to promoting on Facebook, for example, sharing posts on other people's timelines is prohibited.  Here  is the complete set of guidelines to ensure your Page complies to all the rules.
Giveaways are another option that will help gain reach. You can give away branded products that are either from your own brand or in co-op with other relevant brands who will also benefit from your brand and your reach.
Conclusion
If you hadn't thought of properly marketing yourself, these practical marketing tips will get you up and running. If time is an issue, Facebook is the perfect place to start, use these tips to get your brand out there, engage your audience and expand your reach. Once your page is up and running, remind yourself to frequently engage your audience with diversified content – it could be general information about your classes of the week or a funny video of someone at the gym, anything that will make your audience relate to. An engaged audience can be the key to the success and growth of your business.
 References
1- https://www.facebook.com/business/overview
2- http://blog.hubspot.com/marketing/best-times-post-pin-tweet-social-media-infographic#sm.0001ipyetm14mfdjwpm4qeb5t1zch
3- http://blog.hubspot.com/blog/tabid/6307/bid/33800/Photos-on-Facebook-Generate-53-More-Likes-Than-the-Average-Post-NEW-DATA.aspx#sm.0001ipyetm14mfdjwpm4qeb5t1zch