Websites are essentially a portal that bridge the gap between business and client and allows visitors to access your business at any time of the day, whether you're available or not. Your website is the number one representation of your brand online and should be optimized to land you new clients and provide current clients with all the information they need to better understand what goes on in your gym or studio.
If you already have a gym management software, it may include website managing and allow your clients to purchase memberships , session credits, services and goods through your website.
How to start a website from scratch
But if you're building your website for the first time there are five major practices to adopt that will make your site an effective addition to your business. They are:
Making it visually appealing
Keep clients up-to-date
Allowing your clients to book appointments
Marketing digital products on the website
Building a sense of trust through interaction
Making your site stand out with tools or apps
Ensure your website is informative and convenient
Ultimately, taking these steps will work to build better engagement with your clients. This is the key to retaining your current clientele, attracting customers and keeping them happy.
The best possible option for creating a space of high engagement is to use both a website and an app to optimize your online presence.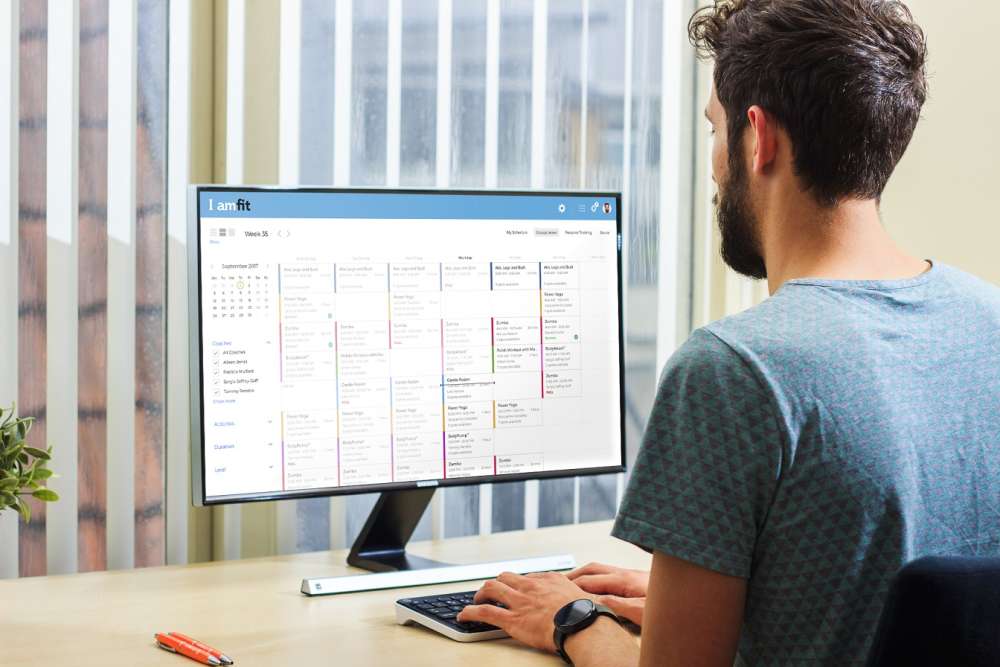 Make it visual
Remember that your image online reflects you and your brand. By using old and outdated visuals and graphics, you portray yourself as a brand that is not relevant. Humans are visual creatures with short attention spans (shorter than the average goldfish in fact). So make sure that newcomers landing on your site understand the message of your brand immediately.
Use bright, light templates or sites such as Canva to create impactful graphics that deliver your branded message. They should compliment your social media and any software app that you are using. Try Virtuagym for an app that you can design yourself.
Allow your clients to book appointments
Allowing your clients to book appointments for classes or check schedules online is a huge relief. It will save fitness studio owners a heap load of time as they won't have to sit by the phone and manage appointments manually or manage things on paper. Fitness and gym owners may also choose to install gym system software that includes tools such as appointment scheduling .
Integrate software into your website that allows your client to make bookings on any device, at any time
Let customers book you according to your availability, instead of arranging your appointments one after another. With appointment scheduling, you can plan your appointments weeks in advance. It will also help to save your clients time too as they'll have their bookings done in an instant!
Market digital products and more
If you really want to increase activity and create a website that has an impact, you should spend some time marketing your digital products. This is a great tactic for making additional revenue from clients that are new to fitness. These fitness freshers often need to work on their form and technique and what better way to do it than to watch digital guides and instructional videos.
Clients can purchase any goods they need, all from your website!
Other than marketing digital products, fitness business owners can also choose to sell a variety of supplements and extra gear for the gym. Using a gym system software in this scenario would make this much easier.
Gym software allows your website to channel various sources of selling products and services for clients to observe. Not only will your client be able to book and schedule appointments, but they'll be able to improve their form during workouts and purchase any goods they might require, all from your website!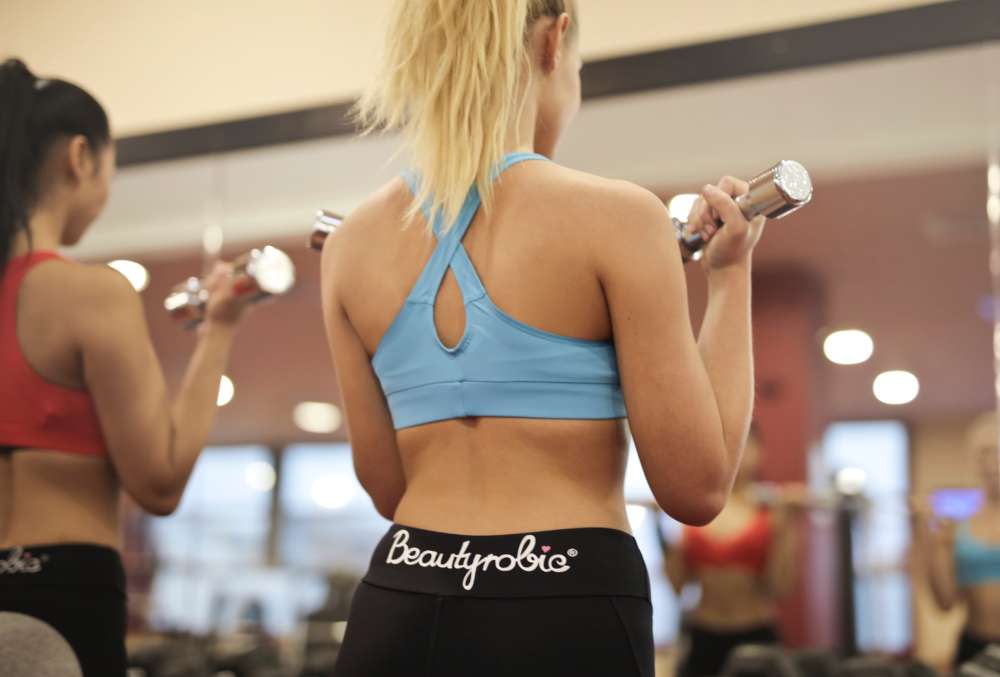 Encourage engagement
To build your fitness website into a stand-out site, fitness and gym business owners definitely require a review module, which makes it easier for the customer to read about others' experiences with that business. Encourage your existing clients to leave reviews about your business on your website. Or since the fitness topic is very common on social media like Facebook or Instagram , fitness owners can choose to post progress journeys, and real-life statements from actual clients. Let them share their success stories and add before and after pictures to prove your reliability.
Make sure your website allows people to comment on your service so your fitness community can grow
This way, any potential client that lands on your website immediately understands that your gym service is worthwhile and produces results. Make sure your website allows people to comment on your service so your fitness community can grow. Allowing people who visit your website to interact with other people who have opted for the same service allows them an insight into what their experience could be!
And while we're on the topic of engagement….
Keep clients up-to-date
While you don't have to undertake an in-depth content strategy to drive traffic to your site, you should make the most of your website by creating a blog page in which you can share all the latest news that relates to your gym or studio.
Entering a Box competition? Share it on the site! Have a client that completed a marathon or is looking for sponsorships? Share it!
Another great way to do this is to combine your site with an app that integrates a community element where users can share progress and comments.
Pair your website with tools and apps
Creating an adjacent app to go along with your fitness website can also improve activity rates. Fitness and gym business owners should invest apps since apps are being taken in the gym more and more often, and are becoming an essential tool in fitness circles.
Use your website to help clients track their fitness and even nutrition
People are constantly looking for items and tools to help track their fitness, improve their technique and form, and add new workouts to their fitness routine and your fitness website's app can do just that! Many gym system software includes apps for your fitness business as well so implementing such software can also help build a website for your fitness studio.
Ensure your website is informative and convenient
There is nothing more annoying that going to a website and having a bunch of pop-ups and ads be thrown all over your screen. Such a set-up looks cheap and instead of actually reading pop-ups, clients will be tempted to press the "X" in the right corner. Find a happy medium of promoting your services without driving potential customers away. One simple pop-up to promote a current promotion or collect an email address is ok, but that should be it.
You could offer an initial consultation for free and advertise this on your homepage
Make sure your website is informative and does not contain any false or negative information. Many fitness and gym websites include blogs and articles that could catch any potential clients attention and helps them learn new things to incorporate into their healthy lifestyle. The majority of health and fitness businesses also offer a free initial consultation. You should make this a key feature of the site with prominence on the homepage if possible.
If you have the time to dedicate to content creation you could also write blog posts about the latest news in your fitness niche.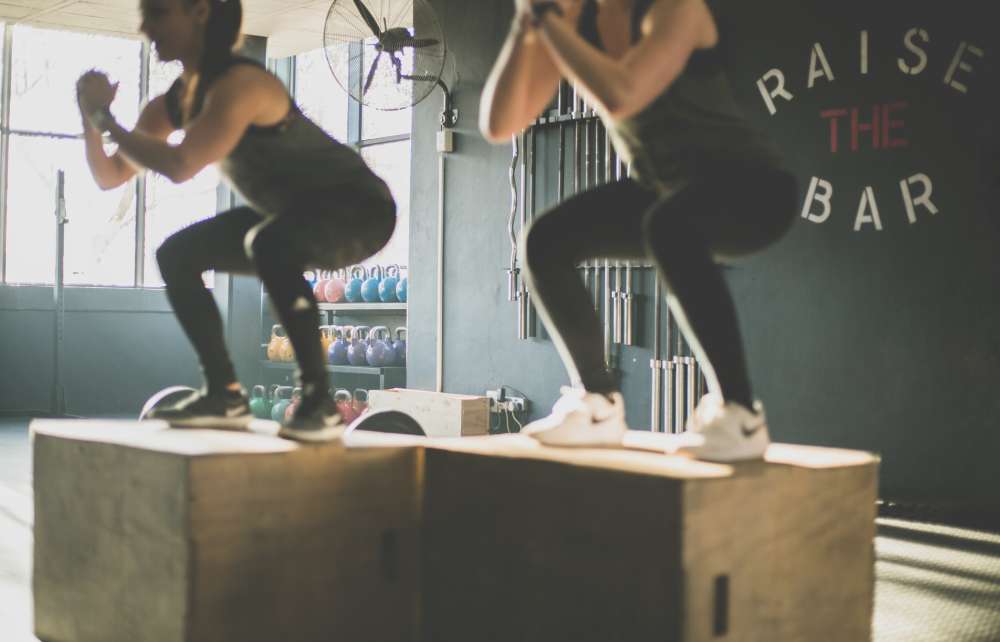 The above practices are guaranteed to boost engagement and as a result help you to develop stronger client relationships and retain more customers. You'll also have the added bonus of encouraging new customers to join your club or fitness center.
For an example of a brand that is getting it right when it comes to utilizing the web and apps in order to grow their business, check out The Sweat Equity's story .