In the highly competitive fitness industry, health clubs are constantly looking for ways to improve their operations. Keeping up with the competition is no longer enough. Most gym owners and managers know that now is the time to stand out from the competition. The best way to get there? Start by leveraging data.
Your fitness company already generates an extraordinary amount of data every day because it is everywhere in your health club. It comes from your social media accounts, payment transactions, class attendance records, customer reviews, member enrollment, and more. And they are incredibly valuable. By efficiently analyzing this data, you can make smart, data-driven decisions that engage your members and drive your business forward.
Gym owners and operations managers, however, face a similar obstacle. There simply is not enough time or resources to collect and analyze information. In fact, many are still working with an outdated spreadsheet that tracks revenue and membership basics.
Here, we'll show you how business intelligence tools will help your health club collect and interpret data to optimize profitability. If you haven't already, it's time to leave the spreadsheet behind and harness the power of your data with  Business Analytics Software .
Business Analytics at a Glance
Business Analytics uses these intelligence tools to collect, organize and analyze data and turn it into useful information. The goal is to gain deep and detailed insights into a business to improve decision-making. Business analytics identifies patterns and anticipates trends. Leverage visual representations such as charts and graphs for at-a-glance analysis. These insights inform decisions that help a club increase revenue, reduce costs and improve the overall customer experience. In fact, data analytics makes this decision-making process some 5x faster for businesses .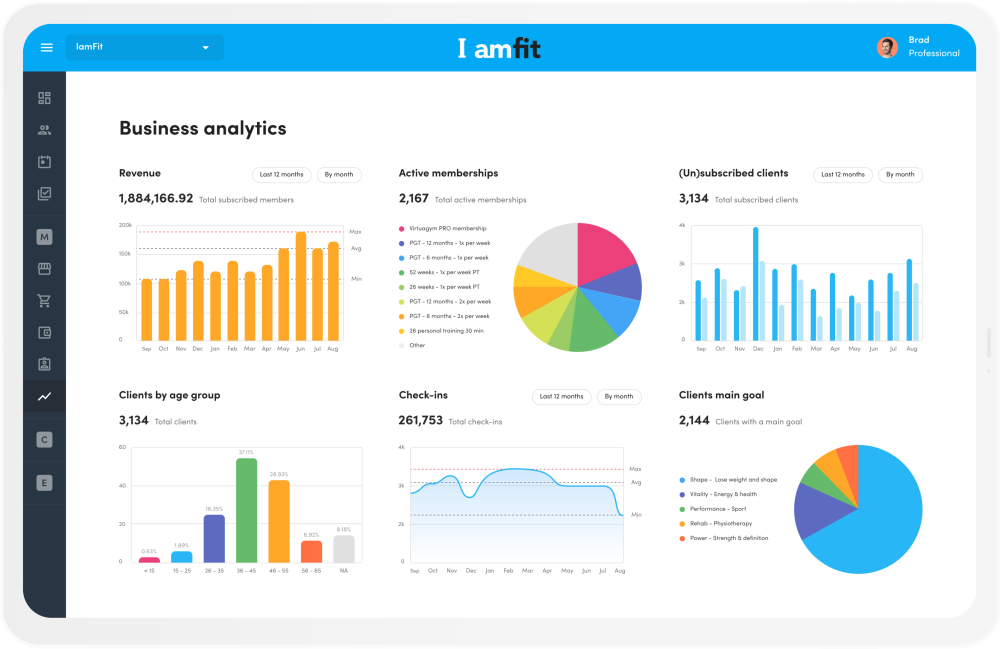 Make Data Work For Your Fitness Business
There are three areas where fitness clubs and gyms can leverage the power of business analytics tools (see below). Gain insights from all the raw data your club generates and use it efficiently. Business intelligence tools like Business Analytics Software are needed to convert the data into actionable information all in one place.
Improve Member Engagement
Increasing member retention and engagement is a high priority for every health club. Fitness businesses that effectively turn their data into clear insights have a distinct advantage over their competitors. Business intelligence tools allow you to understand your customers' behavior at a deeper level. Use this information to help your members achieve their health and fitness goals better than ever before. Creating a meaningful profile of each member gives you the power to deliver an unmatched customer experience.
Personalize the Customer Experience
Personalization is essential in this tech-heavy fitness industry. Without sufficient personalization, technology comes across as cold and ordinary. Use the insights provided by your gym's customers to truly personalize your members' experience.
Use the data collected from gym check-ins or class visits to make your members feel seen, heard, valued, and appreciated. This personalization will deepen their engagement and loyalty to your club, leading to new memberships.
See More: 5 Data Metrics to Drive Business Results
Make Informed, Strategic Decisions
Business analysis tools take the time-consuming aspect out of data analysis. They provide valuable insights into the inner workings of your club and reveal new opportunities for growth. The clear picture that emerges from this analysis means you can make faster, smarter, and more intuitive data-driven decisions for your health club.
Implementing strategies based on insights serves to meet the needs of your members while saving money. Business Analytics Software is ideal for executives looking for such a tool with a high ROI. This solution provides deep insight into what is happening in your club on a daily basis.
When do customers enter your facility? Which courses are the most popular? What is the performance of your staff? With clear and concise charts and graphs, detailed overviews of check-ins, insights into course performance, and employee performance data, it's easy to identify growth opportunities for your business.
Read More: Get Your Fitness Club in Shape with Business Intelligence
Data Is the New Currency
Move your business forward by understanding the data that is being collected from all sources within your fitness organization. A fitness club can not afford not to use data to improve their club's operations.
Leverage business analytics with a robust business intelligence platform to drive better and faster decision-making. In addition, retain and engage members while increasing your organization's profits.
To fully understand the meaning of your data, you need to be able to access all of it in one place. The Business Analytics tool transforms your members' insights, behaviors, and data into actionable strategies all in one easy-to-access place on your existing Virtuagym platform. Schedule a free demo today and discover how Virtuagym can help your fitness business drive efficiency, increase revenue, and meet the wants and needs of your members to optimize your business.