Having a clear view and understanding of all your incoming leads can be very difficult. How do you determine who is really interested and how do you keep track of it? These are two common questions that can keep fitness professionals awake at night.
With Virtuagym's lead management feature, tracking and approaching leads becomes a whole lot easier. Curious as to how? Then read on!
Leads tracking
First and foremost, what actually is a lead? A lead is a potential customer who has shown interest in your products or services by interacting with your brand, for example by signing-up for a trial class or newsletter.
For this reason, it is beneficial to track and understand these specific individuals and target them for conversion. Virtuagym's lead management software ensures you stay on top of the number of incoming leads, so you can respond as effectively as possible.
After installing the lead management software, a new window will appear in your Virtuagym portal. This is the lead overview where you can easily add all contact information, comments, and origin of the leads. This way you can track your leads at any time of the day.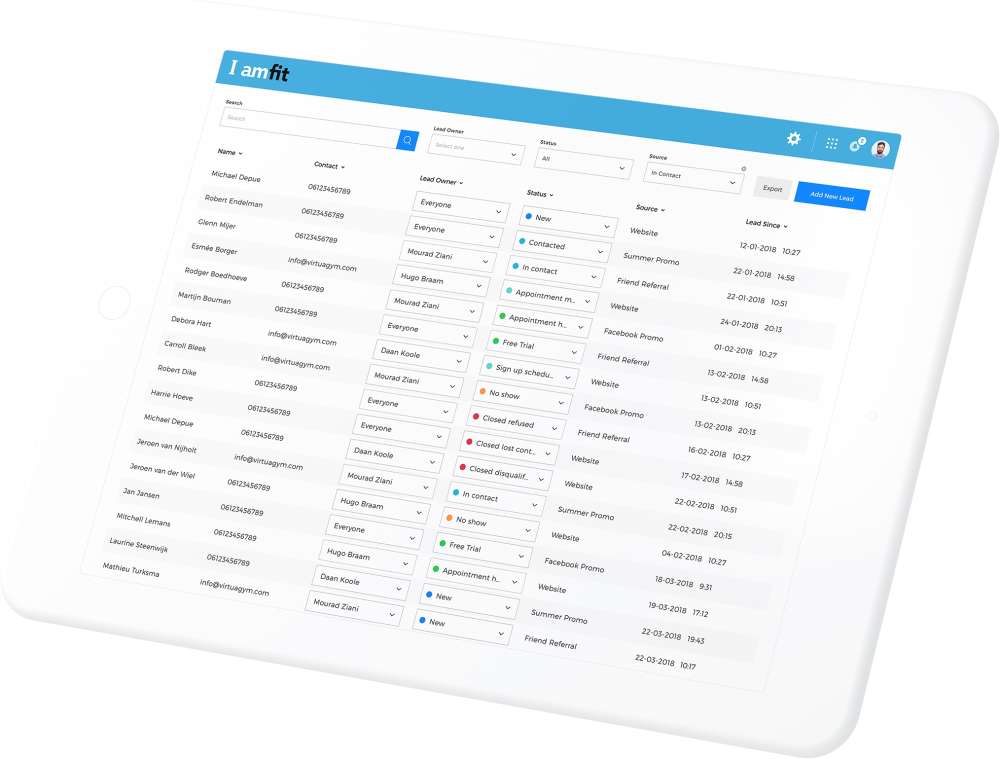 How to approach leads effectively
After a clear lead overview of all the key information has been created, it's time to reach out to your potential clients! Being highly visible in the consumer's decision-making process is very important.
Using this overview, you can easily approach your customers by calling them or sending them an email. That way you are well informed and you know if they are actually interested.
Convert leads to loyal members
Be prepared! A clear lead overview and email campaign will often ensure that a lead is convinced and actually chooses your product or service. After the lead has officially become a client you can easily change their status to "member" in your portal. This also ensures that all information from the lead overview is transferred to your client overview, simplifying the registration process significantly!
Get ready to grow your client base
Convinced of the benefits of Virtuagym's lead management software? And ready to enhance your client base? Then get started today and make the most of your gym!