Whether you're starting a new fitness business or are already well-established in the industry, you have probably questioned how to keep your gym members or clients engaged digitally at some point. You're searching for how to increase your online visibility .
The answer is to create a content calendar.
Why a Content Calendar?
Using a content calendar puts all your business plans into the bigger picture. Having every upcoming promotion, new class, or giveaway laid out in front of you allows you to see whether you are spreading out the release of your content enough.
If all of your releases are close together there's a chance you may go weeks with no new content, and your revenue and stats will inevitably decline. Still, wondering why is a content calendar important? In a world where everything is online, if you're not posting, you simply do not exist.
Planning for future content means you have time to perfect any holiday marketing strategies you have in mind. Humans love themes; themes keep people grounded. Take advantage of this when considering any new promotions or giveaways.
At the start of every month (or whenever you like!) think to yourself: what is our goal?
Your goal may be to gain 100 new subscribers this month, have 500 members enter a competition, or get 5,000 hits on your Instagram profile. It all depends on how far your business has gone so far. Every goal is a good goal.
So, what should a content calendar include?
How a Content Calendar Can Trigger Efficiency
Content is generally used to engage your audience and hopefully widen your reach. In most cases, this means having to continuously publish and post material via your website, social media accounts, or emails. A content calendar can keep you on track as a singular hub for your content ideas and when they should come out.
Not only will a content calendar provide a clearer view of how you can connect and grow your online community, but it's highly beneficial for internal teams. People in charge of said content can stay up to date on campaigns to help them maintain consistency – and other teams can use the calendar to make sure their projects align.
Before even contemplating what to place on your content calendar, you need to make sure all members of your marketing team can see it. Apps like Discord give you a live and digital space where all members of your team can convene. Some apps, such a Glip, also come with a free team calendar.
[caption id="attachment_15045" align="aligncenter" width="800"]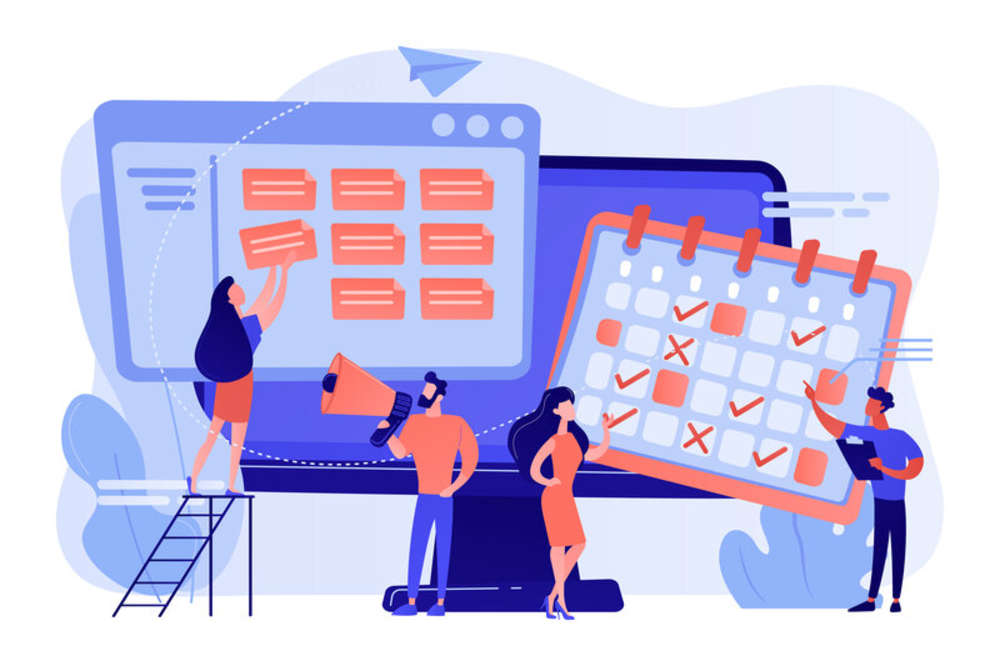 Designed by vectorjuice / Freepik[/caption]
Having a content calendar goes beyond managing your internal workflows. It affords gym owners a simple and task-oriented way to engage with their gym community by breaking communication down to the sum of its parts. By boosting engagement with online fitness communities – namely, gym members – you can ensure that everyone knows about the digital offerings you have in place.
In any case, to keep members or clients actively engaged, your content needs to be consistent and frequent enough. For the owner of a fitness business, continuously uploading blog posts or engaging videos can seem a daunting task. But there is software out there to help.
You can automate writer workflow, giving you and your marketing team extra time to focus on other tasks at hand. Automation software can help ensure writers follow the SEO strategy, post grammatically correct posts, and publish them at a time to fit with your calendar. And now, how do I set up a content calendar?
Know Your Audience
The importance of buyer personas cannot be understated when running a business. Are most of your gym members university students? Or are they in the middle-aged category? Are they mostly male or female? The answers to these questions will determine what content you should be posting and at what times.
If most of your members are working adults, there is no point in posting competitions in the middle of the day – it is likely they will not interact with this until the evening. Posting at weekends is the best bet for targeting working adults who will be off work.
University students may have weekend jobs, and so the weekdays are best for catching their eyes.
Get In on the Trends
There are a few times in the calendar year where people will be looking at joining a gym. The periods that spring to mind are New Year, the time of Lent, and at the beginning of the new academic year in September. During these moments, post photos of your gym equipment, or promote classes you offer.
If you're active on social media, you'll also know about popular hashtag trends, such as #MondayMotivation and #TransformationTuesday. These trends are ideal for posting gym content.
Use interactive content to boost leads. The most engaging websites offer visitors quizzes to participate in. Your gym's website and social media profiles could offer quizzes to users to see what kind of workout they should do, or what class suits them. This is a fun way to motivate involvement in your gym.
It may seem like a daunting task, but now and then, you will need a content marketing refresh. Trends change, customers' wants and needs develop – and so does your business.
The trend for 2021 is likely to be outdoor workouts. As a gym owner, you should upload ideas for workout routines and have your leads benefit from the outdoor fitness classes trend .
If your gym is currently closed, take this downtime to consider how you can use the concept of outdoor classes to create more creative classes for when your members are back inside.
Once regular gym-goers have adapted to outdoor workouts, they might be less inclined to return to the gym.
You will need your business to adapt to this new way of life. Virtual wall climbing, anyone?
One Final Note…
You might now be up to speed on why it is important to keep clients engaged and how to do so. At the same time, it is just as important to ensure that the same level of engagement is happening between your team members and colleagues.
For small businesses, in particular, finding affordable team conferencing software can be difficult. There are a plethora of free Webex alternatives out there to ease the financial burden when it comes to video calls.
The sales and marketing teams are what keeps a business going, so it is also crucial to invest in the right sales software to keep your business growing.