In this article, we'll look at how much do personal trainers make in the USA, UK, and Spain. This should give you a solid idea of what you can expect money-wise in your career.
If you're trying to decide what to charge as a personal trainer, or you're just about to launch your career as a personal trainer and want to know what you're getting yourself into, well, you've come to the right place.
We'll break it down by country, experience, and gender so that you know what to expect and can work towards.
So do the salaries vary greatly between the three countries? Well, yes and no.
Personal trainers working in the UK and the USA often earn similar salaries with only slight differences.
Personal Trainer Salary in the USA
According to the National Academy of Sports Medicine (NDSM), the average personal trainer salary in the US is $40,000 (in 2022), which is slightly above the median salary in the US. But these numbers differ depending on who you ask.
ZipRecruiter, for example, says the average is $49,000, while the U.S. Bureau of Labor Statistics says the average for fitness trainers and instructors is $42,000.
The average personal trainer salary is also dependent on what type of personal trainer you are. NASM identifies the following three types of personal trainers and their average salaries.
How Much Do Personal Trainers Make Based on Type
Private PT – $78,000
Independent PT – $62,000
Gym Employed PT – $34,000
According to a survey of 1,021 personal trainers from August 6th to 13th, 2019, the average respondent said they work with 23 clients a week, and charge about $60 per session for individual or group training.
And, as is expected, 51% earn more than $50,000 a year, compared to 17% of those with fewer than five years of training clients. So, the more the experience, the higher the personal trainer salary.
Read more: How Personal Trainer Management Software Avoids Bankruptcy
Personal Trainer Salary & the US Gender Wage Gap
The median income for women is about 80% of that of men. This gender wage gap becomes wider when you factor in the United States' racial economic disparity, in which Black and African-American women earn $0.62 for every dollar their white male counterparts do.
However, these figures are even more different for female personal trainer salaries in the US.
Across most other fields, the median income for women is about 80% that of men – but in the fitness industry, our research on Payscale.com shows that female personal trainers earn $37,300 a year, just 70% as much as their male counterparts.
Many believe this is due to women beginning their personal training career later than men and having less experience and therefore, a lesser salary than male personal trainers.
Among trainers who earn more than $50,000 a year, 27% have an NSCA certification, compared to the 13% of those who make less. That number rises to 30% for those who earn more than $75,000.
If there's one certification that's globally recognized within the fitness industry, it's the NSCA's Certified Strength and Conditioning Specialists license (CSCS). Since the CSCS requires a Bachelor's degree, and just 56% pass the test on their first try, those who earn a CSCS tend to be the most serious about training and coaching.
With the right education and experience, highly successful personal trainers can make over $60,000 a year
Personal Trainer's Salary in the UK
[caption id="attachment_7020" align="aligncenter" width="499"]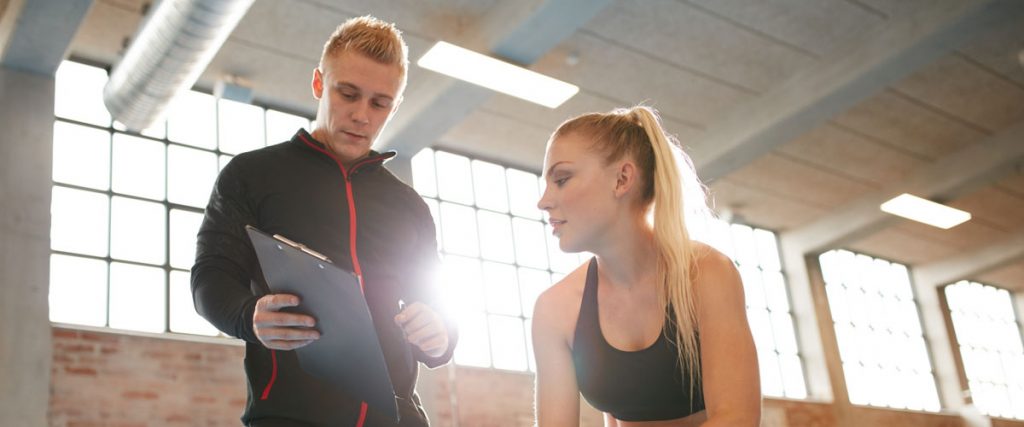 Personal trainers in the London area earn more than PTs elsewhere in the country[/caption]
According to Glassdoor, the average personal trainer salary in the UK is £30,387 a year (in 2022). This is for full-time personal trainers in the London area with experience and certification.
PayScale notes the national average salary for personal trainers in the UK to be £19,346 per year, but this is far from a conclusive figure. Several factors affect your income and could see you earn significantly more. Typical starting salaries for personal trainers who are employed by a gym are around £16,000.
With a year or more's experience, though, they can usually expect to earn between £20,000 and £35,000. If you really put in the legwork, highly successful personal trainers can earn over £60,000 a year. High-end personal trainers can charge over £1,000 for six weeks' worth of work with just one client!
However, in the UK salaries depend on the geographical location as well. One-to-one sessions in the wealthier parts of London can easily cost £80 to £100 an hour. In other parts of the UK, £25-£35 an hour is the norm, whereas in more affluent areas you can earn £30-45 an hour.
Depending on the area, hours worked, and the standard of service, personal trainers based in affluent areas have the potential to earn between £40,000 and £60,000 a year.
So, aspiring personal trainers in the UK should consider where they want to start their careers as it highly affects their yearly income.
An increasing number of personal trainers are digitizing in order to meet higher demand and increase their salary. Discover how you can jump on the tech bandwagon for PTs by reading our blog on 6 Reasons Why Personal Trainers Are Going Digital .
How Much do Personal Trainers Make in Spain?
A personal trainer working in Spain would earn around 3,417 EUR per month. As seen in the USA – and also the UK – personal trainer salaries may differ drastically based on experience, skills, gender, or location.
Personal trainer salaries in Spain range between 1,606 EUR per month (minimum salary) to 5,057 EUR per month (maximum salary). There's a noticeably huge gap between these two numbers.
There are many reasons for this, experience levels being the most crucial determining factor in a personal trainer's salary.
Naturally, the more years of experience, the higher your wage – as it is in the UK and USA. A personal trainer with less than two years of experience makes approximately 1,848 EUR per month.
However, someone with an experience level of between two and five years is expected to earn 2,538 EUR per month – 37% more than someone with less than two years' experience.
Moving forward, an experience level between five and ten years lands a salary of 2,848 EUR per month, 12% more than a person with two to five years of experience and so on.
Unfortunately, like in the US, gender affects the personal trainer salary in Spain as well; male personal trainers in Spain earn 16% higher than their female counterparts.
Education level factors into personal trainer salaries in Spain.
When the education is at the certificate or diploma level, the average salary of a personal trainer is 2,331 EUR per month. Someone with a Bachelor's degree gets a salary of 3,418 EUR per month, 47% more than someone with a certificate or diploma.
Thus, as we've seen across the board, the higher the education, the more appealing the salary.
A More Profitable PT Future
If you've been thinking about becoming a personal trainer, now is always the best time to start. The future for PTs is looking bright, as younger generations are increasingly focused on health, wellbeing, and mobility in old age as a factor of happiness.
Complete the coursework and pass the exam, and you'll be ready to help clients lose weight, build muscle, get healthy, and achieve their fitness goals.
Choose where you want to build your personal training career wisely as different locations yield different results.
With more success comes more clients. Find out how you can indulge your clients in the attention they deserve and keep their focus strong in this blog titled 7 Ways Personal Trainers Can Increase Client Motivation .
To make life easier, many personal trainers choose to opt for client management software such as Virtuagym , which offers less administration, more sessions, better coaching and aids your personal training experience massively overall.
You can try it out with the  free version  of the coaching app – no strings attached!
If you're ready to take the next step in your personal training career, get advice from those that have made it and read Sweat Equity's story here .
To ensure you're competing for the best personal trainer salary out there, consider investing in coaching software for personal trainers and start giving your business its best shot at success!