We have all been waiting and hoping for such a long time and now the moment is finally here - gyms are reopening and we are up and running again! Of course you will have a lot to think about as you open your doors again but please don't forget the importance of restarting your billing and invoicing!
Good preparation is half the battle
As mentioned above, it is essential to re-establish your invoicing process to prepare for accepting payments again.
Within the Virtuagym portal, it is possible to set up offline and online payment methods such as credit card payments, direct debits, PayPal or even cash. The following payment providers are linked to these payment methods : Paypal, Paysafe, Mollie, SEPA and GoCardless.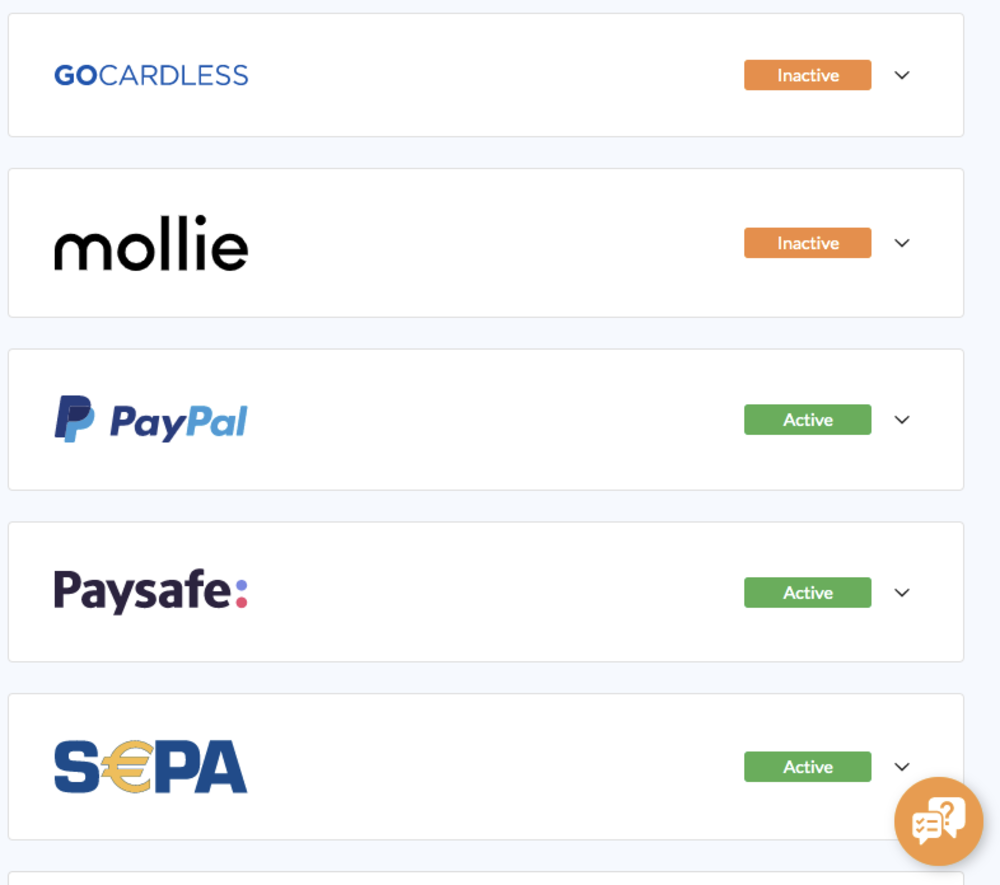 With integrations like our point of sale module , webshop , personalized credit system and online sign-up, receiving money from your members is easier than ever!
Are you curious about how you can restart the invoicing process? Then read on…
How do you set up invoicing?
Setting up invoicing in your Virtuagym portal is luckily not rocket science. But it is important to understand exactly how it works.
Firstly, carefully **r****econsider the payment methods you used before the COVID crisis**.
After this, the setup can begin! Simply visit your online portal and select the system settings in the left sidebar. Then scroll down to the payment methods section. The location of your gym (Europe, North America or the Rest of the World) is displayed in the top right corner. Based on this location different methods and providers will become available. Then select the desired method(s) and provider(s). Please note - only one provider can be chosen per method, per club portal!
What are the benefits?
If you were using our invoicing feature before the COVID crisis, you will already be aware of its numerous advantages. But there's no harm in emphasizing them again! Besides saving a lot of time, it also:
Creates a clear invoice overview
Simplifies the invoicing process
Supports the most popular payment methods
Guarantees security
How Virtuagym bills customers online
Many of our clients are already reaping the benefits of the automated invoicing feature. For example, Tom Fearson, founder of Be Fearsome , a London-based fitness company that offers fitness, lifestyle and adventure services to individuals, groups and businesses.
As Be Fearsome's client list grew, Tom sought a service that could speed-up and facilitate his invoicing and go beyond just accepting card payments with a mobile card reader. That's when he found GoCardless three years ago to expand into direct debit and credit card payments.
Since Be Fearsome could easily combine GoCardless with Virtuagym's all-in-one package, he was able to start automating the entire invoicing process.
With all invoices, payments and tracking in one place, Be Fearsome and Tom now save time and money. This process used to take almost a full working day, but now it is done in a heartbeat. His invoicing is fully automated, which eliminates the need for Tom to keep track of payments and send regular reminders.
Get your gym ready for the reopening!
As COVID restrictions begin to lift and gyms start to open their doors again, having a clear reopening plan is of great importance! To avoid last minute stress, begin restarting your billing process now !
Questions or uncertainties? Please do not hesitate to contact us via the "contact us" button in your portal.