If you're in the process of digitising your fitness business in order to meet current client and member demands due to the coronavirus pandemic , you might be considering using a workout challenge to slow your churn rate and foster engagement at a distance. But creating a home workout challenge from scratch is no easy feat and if this is something you've never attempted before you may be asking - how the hell do you make a workout challenge anyway?
This post will guide you through the different types of challenges and provide you with the best options and ideas for you to create a home fitness challenge that your clients and members love.
How to run a fitness challenge
First you should choose the type of medium you would like to use to deliver your workouts to your clients and members. Then consider your platform, how you will create your workout (and if you even need to) and finally the kind of home workout you aim to deliver.
Pick your medium
You have a few options when it comes to the medium and format of your workout challenges.
You could go old school and create your own PDF of workouts or printable instructions to follow. But these days, less and less people have printers in their homes and constantly refreshing a phone or moving the cursor on a laptop mid-workout is a bit of a nuisance. By far the most popular medium for fitness-lovers is the virtual workout - that includes live streaming of videos , pre-recorded videos and virtual training like the coaching app feature developed by Virtuagym.
Pick your platform
Where would you like to host your workout videos or challenge guide? You can choose from hosting videos on your own website and app (this can be done via your software provider via a Video On Demand feature) or alternatively you could use social media sites such as Instagram, YouTube and Facebook. All of these services also have live-streaming options so that you can encourage your followers to join in together at the same time. Pitting them against one another instills a competitive spirit and keeps motivation high even while in isolation.
Create your workout
Now, the only thing left to do is to create your workout. For those opting for graphics, use a site like Canva to create beautiful designs that can be shared on social media and grab the attention of your followers and prospective clients and members too.
If you're creating a video workout - it's time to get stuck in. These days, most mobile phones have a good enough video recording feature to serve as a camera. However, you may want to invest in audio equipment to improve the sound quality of your workout video - depending on the quality of your phone/camera. You could also record the sound separately and play it over the video - this works best for home yoga challenges in which moves can be demonstrated visually and a voice-over can explain the details.
[caption id="attachment_11289" align="alignnone" width="640"]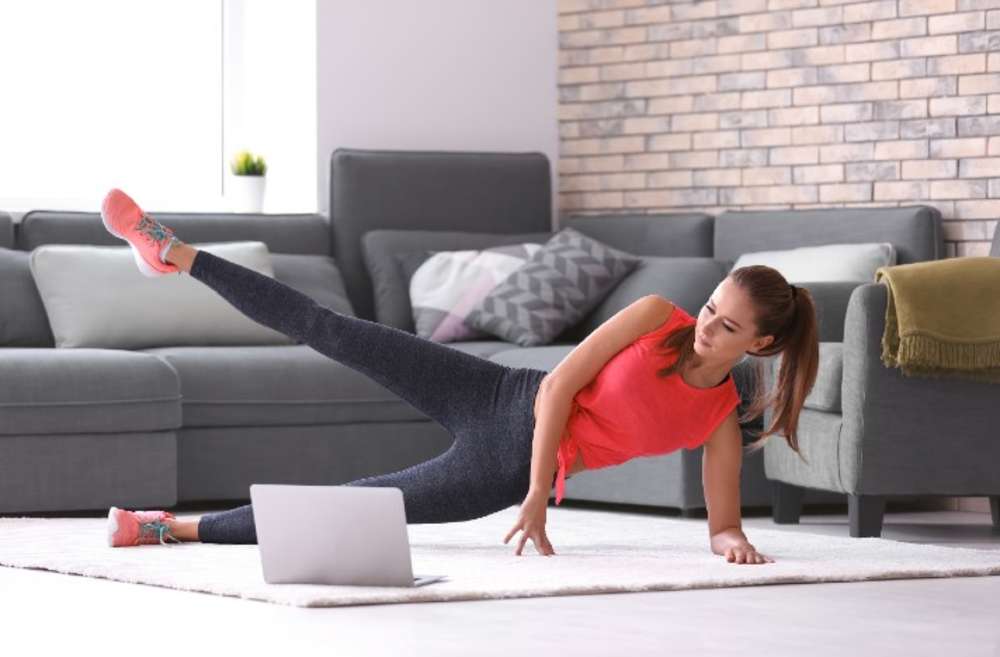 Africa Studio || Shutterstock[/caption]
If you're playing your video on social media don't worry too much about the quality - it doesn't have to be worthy of an Oscar it just should be visually appealing enough to invite your members and clients to participate. Take a look at some of your favourite social media influencers and see how they create their own videos. Pick a style you like and attempt to imitate that, adding your own personal twist.
OR outsource your challenges
Another option is to outsource your challenges. That means live streaming or sharing videos that already exist. You could do this via your own personalized branded app. Virtuagym's new Virtuagym @Home feature allows fitness professionals to use daily home workout challenges and routines and share them with clients and members.
Simplify your home workout challenges
You could also make this really easy for yourself and invite your clients and members to participate in plank challenges/ push up challenges/ squat challenges/ pull up challenges or other single body move challenges. Create a leaderboard, either in your branded app or on social media and encourage your clients and members to share their results - the person that can do the most reps is the winner! This one is really excellent for engagement and you will see people really interact with one another as they become more competitive.
What kind of home workout challenge should I do?
And now comes the fun part - choosing the kind of workout challenge you would like your clients and members to participate in. When choosing this consider a few things such as; what do your clients and members need right now? What is your unique selling point? How much time do you have into delivering home workouts?
30 day workout challenge
It's the creme de la creme of the workout challenge world - the 30 day workout challenge.This will be particularly popular with your clients right now as they have a long stretch of time working out at home ahead of them.
Ab workout challenge
This one will be very popular right now - as documentary maker Louis Theroux tweeted, 'I want to come out of this lockdown like someone coming out of ad seg in prison: with a six pack and a bad attitude.'
To do this challenge set a series of videos increasing with intensity each day. You could also incorporate it into a plank challenge and see who is the record-holder for the plank by the end of isolation.
Workout challenge for beginners
It's also worth simplifying classes or sessions that you would hold in regular times to cater to beginners. This could attract the attention of people interested in fitness that are not already your members and in the long-run could help you gain more clients and members.
When creating your home workout and fitness challenge for beginners ensure that you focus on explaining the correct form. Without you there to make corrections in person, it's important to encourage proper form so that people do not end up with unnecessary injuries.
Have a play with different workout challenge ideas. Find what suits you and your members and clients best and ask them what they want. While this is a challenging and stressful time for many of us, you can make it your mission to deliver home workouts that make isolation a happier and healthier time for both your current clients and prospective ones.