In Virtuagym's most recent global COVID-19 customer survey, two things really stood out. The first was that 45% of gyms, 32% of fitness studios, and 36% of personal trainers said they had used home workout content technology. The second was that 1 in 4 of our customers is using a combination of online and offline solutions to attract new clients.
What does this show us? That the modern-day fitness user is now looking for experiences that go beyond the four walls of their physical gym or studio. They have become accustomed to the freedom and speed of digital services, and want to be able to work on their health wherever and whenever it suits them.
We always want to listen to what our brilliant customers have to say - so with all this in mind we're excited to bring to you our newest exciting product to help monetize your digital content and grow your reach - the Virtuagym Video Workout Platform !
A Core Part of your Hybrid Fitness Business
Not so long ago, the use of video workouts was minimal. Now, they are integral to a fitness businesses' hybrid business model. You might have heard the phrase a lot recently - so what does it actually mean?
Due to the evolving demands of modern fitness consumers, more and more fitness businesses are looking to seamlessly combine both their digital and physical services. This has become an important way for fitness clubs, personal trainers, and fitness studios to provide more personalized and meaningful experiences to existing, and potential, clients.  Online video workouts, just like the Virtuagym Video Workout Platform,  are a fantastic way to expand a club's offering beyond physical facilities and to also appeal to those seeking different ways to achieve their individual health and fitness goals.
The Virtuagym Video Workout Platform - What Does it Do?
Have you already been using our Video On Demand content? Well, the integrated Virtuagym Video Workout Platform will take your use of online workouts to the next level as part of an engaging hybrid offering that combines in-class experiences with online classes or content.
It allows you to create your own workout libraries in the Virtuagym portal and make them available for your clients in your own customizable club mobile app. And what's more, you can provide a full screen experience by streaming them to TVs via Chromecast and Apple TV.
Is there more? Of course!
The feature fits seamlessly into Virtuagym's suite of products , meaning you can assign videos directly to clients at specific times and at certain difficulty and intensity levels. Also, it allows your clients to track burnt calories, which are automatically taken into account for their nutrition plans. And the innovation keeps coming because soon users will have access to an integrated heart rate tracking option, allowing them and their trainers to get a better overall performance summary in a post-training detail screen.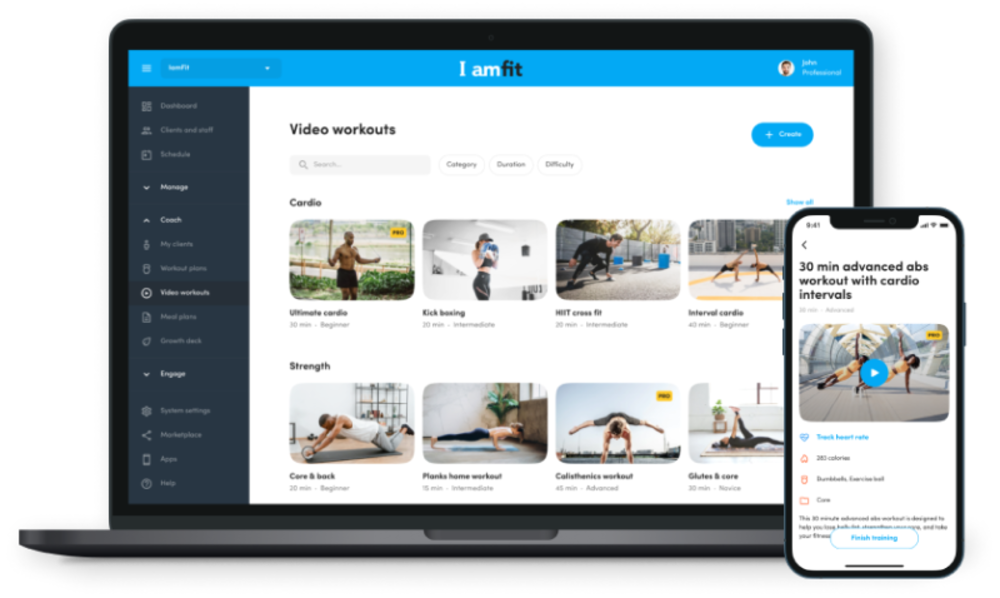 Get the Camera (and the Benefits) Rolling!
Having your own branded video library suits modern lifestyles because it gives clients the flexibility to tailor options for their personal needs, picking and choosing the videos most suitable for them, at the best time for them and at the best level for them. This can form part of a far more enhanced training schedule, whether performed individually at home or as part of a mix with sessions in the club. This is important as today fitness customers are increasingly looking for a gym or trainer who can adapt to their lifestyle.
What's more, the Virtuagym Video Workout Platform enables you to produce a greater variety of different and accessible fitness content, not just in the form of  pre-recorded or livestreamed workout videos but also as a way to provide knowledge sessions, Q&As or just far more personalized business updates. And, you are providing this content to a much larger and more diverse pool of clients -catering for a bigger audience with different backgrounds, motivations and preferences.
"This has become a core demand of modern fitness consumers, who are increasingly expecting quality experiences and services beyond just the four walls of their fitness facility."

Hugo Braam, CEO and Co-Founder of Virtuagym.
Furthermore, our video workout library quite simply provides an amazing way for customers to continue to engage with your fitness brand. This can actively help in building a community between clients and your business itself. With both digital and physical touchpoints, you can grow your brand loyalty and awareness and improve retention - as well as appeal to potential clients!
Finally, the feature's ability to track and measure physical activity is invaluable in providing data insights from sessions to help inform more impactful, personalized and therefore effective health and wellness plans.
How to Monetize your Digital Content
Right - so you are providing quality and accessible branded videos as part of more personalized and flexible fitness programmes. The question is - how to monetize this digital content ?
Through our integrated PRO Membership feature you can upsell the  Virtuagym Video Workout Platform to clients for a small monthly fee as part of your rich PRO Member digital client experience, delivering additional revenue opportunities.
And if you're looking for more guidance on how to monetize digital content, you can use it within a variety of differently priced subscription packages combining online and offline that you can cross and upsell. This can be positioned in your communications to existing or potential clients as a cost-effective, as well as flexible, way for them to achieve their fitness goals.
Get Ahead of the Game Today
The use of online video workouts is here to stay. Get ahead of the competition today by investing in the integrated Virtuagym Video Workout platform, so it can become an integral part of your hybrid business - now and in the future.
Are you keen to find out more? Get in touch to Request Demo & Pricing !