Starting a gym and building a recognizable fitness brand is a difficult endeavor. That's why it's important to start off using a system that can automate the simple processes so you can focus on growing your business and membership base.
By offering easy-to-use and easy-to-access resources and information, such as opening hours, a group class schedule, and workout plans, members are more likely to keep coming back to your gym. Launching a mobile app makes your brand even more visible to members and potential members see you as a recognizable and trustworthy brand with positive reviews and happy customers.
Building a mobile app may seem like a daunting task, but it doesn't have to be. Why not use experts to help develop it for you?
Let's see how it can work for your gym!
The Amsterdam-based, women-only gym, FemmeGym , owned by two stellar women, Halima & Valeria, has been around since 2015. They had the opportunity to take over a gym - so they went for it! The first order of business was to replace all of the separate programs and find one software that could manage the gym's memberships, billing, scheduling and more.
They started with Virtuagym's all-in-one solution and immediately began development on their Custom Branded Mobile App . Now 5 years later, they have built up a loyal following and they boast a 4.8-star rating in the App Store with over 200 reviews.
The simple set up process meant that Halima could focus on running her gym and instructing classes while her clients could check the group class schedule, book classes, track their exercises and progress all in their mobile app. It boosted client retention. Almost every client (who has a smartphone) is using the app. According to Halima, she "doesn't know what she would do without (the app)" - it's very professional and easy for her clients to find FemmeGym, and it's a bonus that it's branded just for them!
Do you want to know more? Discover what a complete software management system can do for your fitness business !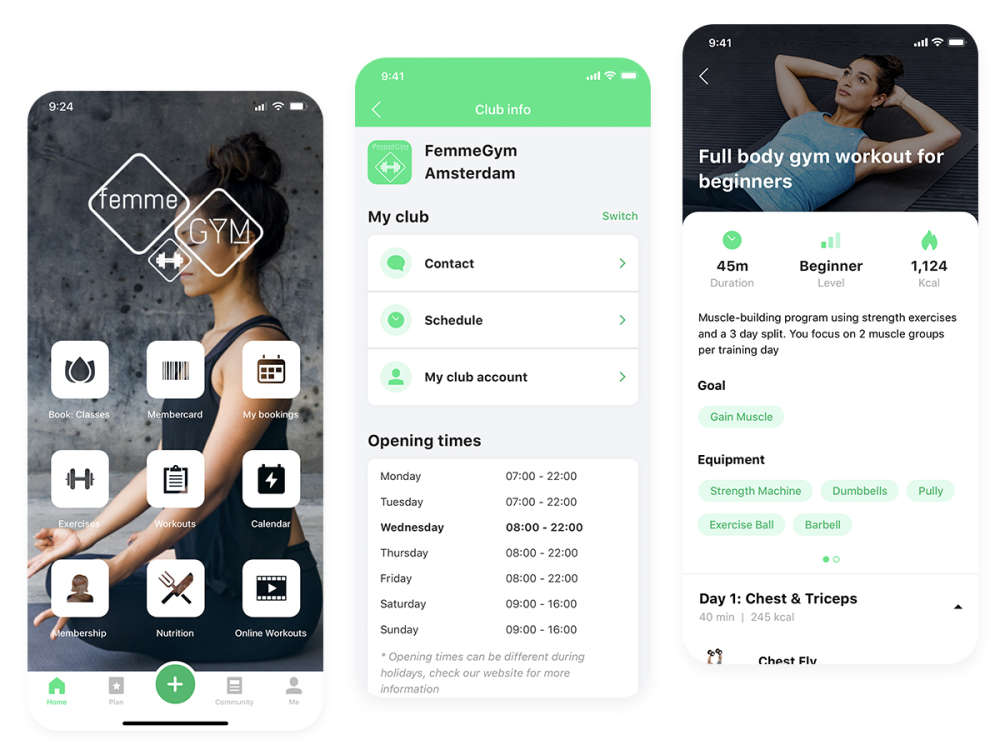 Let's build a Custom Mobile App!
Halima was able to get started in 5 simple steps:
She made sure that she met all the requirements - this means Halima's organization must be a legal entity with legal binding authority and a publicly available website;
She found her D-U-N-S number - this is a unique 9-digit number used as a standard business identifier;
She created an Apple ID for her business - this is recommended when enrolling in the next step;
She enrolled into the Apple Developer Program - verification of enrollment can take up to 2 weeks;
She added Virtuagym to her Developer Account - once her Apple Developer account was active, she invited Virtuagym to access her account.
After step 5 was complete, she reached out to Virtuagym's support team and they got started right away on the development of her app.
While waiting for the verification of her Developer Account, it was possible to get started on the more creative part of creating a custom mobile app - design ! In the System Settings in her Virtuagym portal, under "Essentials", is "Mobile App Design".
Halima could change the header color, app logo, and header and accent colors, then move along to some meatier design - the custom home screen. She chose the header background, background image, tiles , icons and login screen. She was able to customize every aspect of the mobile app to match her gym's colors and branding. Her clients are able to immediately identify FemmeGym in the app store.
Test out what your own Custom Mobile App would look like!
Add features your clients will enjoy!
Halima's custom mobile app includes features like the Community where she can always be in touch with her clients and drive client retention and engagement through challenges. There is also exercise and progress tracking, scheduling and online booking, and even a connection to wearables like Google Fit or Apple Health, and a direct connection to NEO Health.
To not miss out on new functionalities, it's important that Halima keeps her Apple Developer Account up-to-date . She can simply log into her Apple Developer Account, and review and accept all pending notifications regarding license agreement, renewing her Apple membership (which is only valid for 1 years unless you select auto-renew), or Paid Applications Agreement.
Looking to hear from more fitness entrepreneurs like yourself? Read how Your Personal Training took on the challenge and embraced digital.
Why create your own Custom Mobile App?
When clients are happy, they stay. But keeping clients happy is hard work. By making your clients' lives easier, in turn your life will get easier and you will be rewarded with higher client retention. With one place to book classes, check a schedule or access training plans and open lines of communication through push notifications, emails and a community home page, your clients will stay in the loop and remain loyal for years to come.
Getting your custom mobile app up and running as soon as possible is the easiest way to empower your clients and in turn, increase client retention, engagement and experience. Brand awareness is also boosted when your own app is visible in the app store under your own app icon.
Virtuagym's all-in-one software suite offers a custom mobile app but also boasts a ton of additional features that can help you run your gym. Try it out in your own Virtuagym portal .