Whether you're a large, national chain of gyms or a single location with a handful of employees, with fitness management software you streamline your business. Fitness management software gives you the tools you need to grow and scale your business, improve customer experience, and increase retention rates.
But with so many available options, how do you know which one is right for your gym?
Software for fitness businesses has been around for quite some time now, but if you haven't been in the market for years or even decades, the options have changed significantly.
Here are some things to consider when comparing your options.
What is Fitness Management Software?
Fitness management software is the technology that people within the industry use to manage their fitness facilities more efficiently. A good fitness software system takes care of all matters concerning your (membership) administration, class schedule, CRM system, finances, communication, and coaching in one system.
What Are The Benefits of Using Fitness Management Software?
Here are a few of the ways it can work for you:
Operate your business more efficiently and effectively.
Connect with your customers in a whole new way.
Grow your business and client base.
Step-by-Step Guide: How to Choose The Right Fitness Management Software For Business?
Step 1: Establish Your Needs
What kind of input do you need? You might need a program that allows you to create custom classes or schedules? Or perhaps you need a program that gives you access to workout data?
How much flexibility do you need? How often will people be coming into your gym? Do you want members to sign up for classes online, or would it be more practical for someone to come in during business hours? What about people who live far from your location?
Any online scheduling functions allow them to scope out a class on their schedule and make an appointment with one of your staff members so they don't miss out.
Step 2: Features You Need to Run Your Business More Efficiently
Before buying a fitness management system, first, identify what features you need to run your business more efficiently. Does the software have a mobile app that allows you to connect with members, or does it include an integrated payment processing feature that simplifies collecting monthly dues? Each fitness business is different, so take time to evaluate your top priorities before making any decisions.
Some of the most requested features by our clients include:
The Lead Management tool allows you to keep track of future clients by sending messages after they sign-up. This way, you'll focus your marketing and sales efforts on prospects who have already expressed interest in your community. You will also use it to stay in touch with clients who have become inactive.
Gather Insights And Grow With Business Analytics Software
Once you have a good overview of what is happening in your business with Business Analytics , you'll be able to understand how much revenue you make, which memberships and fitness programs are most popular within your target audiences, and how coaching can benefit clients in your fitness business.
Like many industries, customer retention is high on our list of key performance indicators. Keeping track of your current members is less expensive than acquiring new ones. Easily identify your at-risk members, act quickly by reaching out and reducing churn and secure your monthly revenue.
Community With Progress Tracking And Challenges
Give your clients ways to communicate with you and with each other. For this to happen, introduce them to your Online Community . This keeps your clients stay motivated and cultivate relationships with the other members of your fitness business.
Mobile App For Members or Coaches
Bringing all your processes together in one intuitive platform , allows you to manage, engage, and coach everyone in your organization simultaneously, without the added hassle that comes with using multiple platforms.
Keep Your Revenue Going With Upsales
Discover a truly revolutionary digital membership solution for your fitness business. Combine online and offline management of members to create member-centric clubs that drive revenue, increase retention, and keep your clients happier and healthier.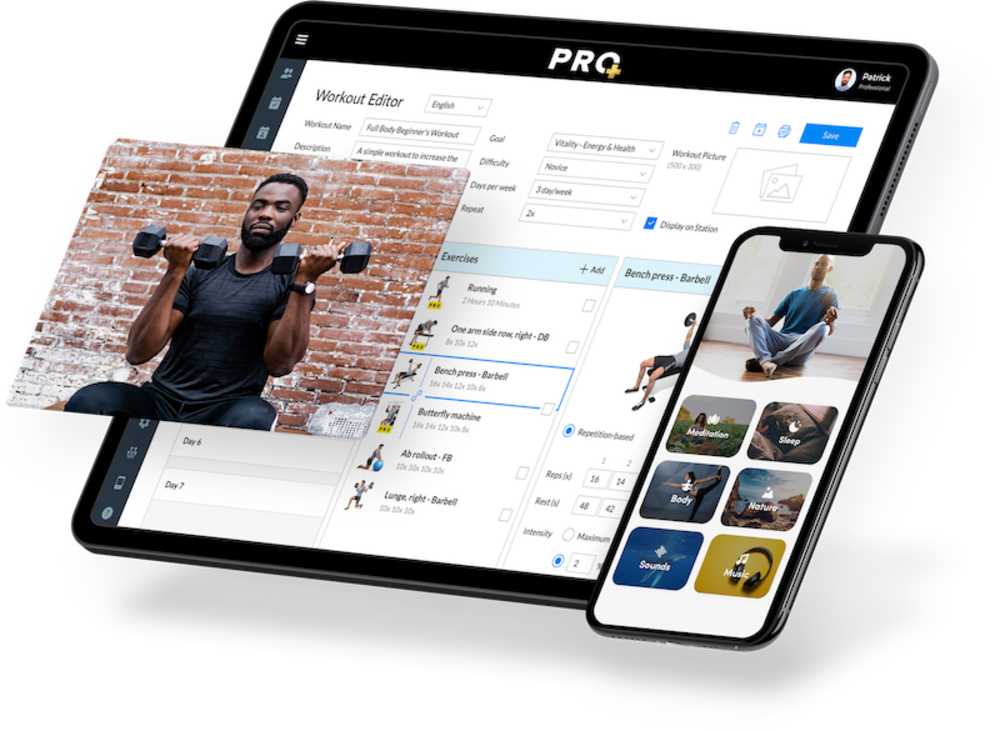 Membership Administration
One central system: Automate more than 20 administrative tasks for diet clubs, sports clubs, and other types of enterprises with Virtuagym's client administration software .
Appointment Scheduling Software
Maximize the efficiency of your 1-on-1 planning with appointment scheduling software. Let clients book from your online calendar, instead of arranging one at a time. Schedule even weeks in advance.
Automate Payments And Memberships
Virtuagym's convenient payment software saves hours of administration time. Your members will be automatically billed on a date of your choosing—so you're never chasing payments.
Webshop Software For Merchandise And Memberships
By integrating an online store into your website or app, your clients can easily buy memberships, credits, and merchandise.
Step 3: Consider User-Friendly And Real-Time Software
Fitness management software has to be easy to use and allow for real-time updates on memberships, payments, and scheduling. Your staff shouldn't have to navigate through a maze of buttons to find what they need or wait around while data updates.
Step 4: Check if it's Easily Customizable
Most likely you'll need to adjust and customize your fitness management software system at some point. To save time and effort, it's worth checking if your chosen system has an easy-to-use interface that allows you to make these changes in a few clicks.
Step 5: Determine Your Software Budget
Knowing how much to spend on software guides you to consider affordable options. Do this before you start looking into different options. Otherwise, you might fall in love with something that's out of your price range and end up disappointed.
Step 6: Set Up A Demo Call
Most fitness management software providers offer free demos that walk you through their products and show you what to expect. Set up a call here , and see how Virtuagym can work for you.