COVID-19 has been hectic for the fitness industry. With rules changing quickly and another shutdown looming overhead, it's difficult to know what will happen next.
Fitness businesses and professionals need to be quick to adapt to the ever-changing environment while continuing to promote the health and wellness of their members. Although the industry has been hit hard, exercise is still essential during this time.
Are fitness clubs essential? Should gyms re-open? The debate is still open , but we all know the essential role that gyms and fitness professionals play, especially now. The services and benefits you provide to your members are necessary to maintain a healthy and active life.
The key takeaway is that exercise is essential for well-being during COVID-19.
RunRepeat surveyed 1,990 gym members from 120 different countries to learn how they will be keeping in shape in 2021. The outcome was quite interesting, as 72% say running and other outdoor activities are the best ways to achieve their fitness goals in 2021.
Outdoor workouts are here to stay
Is fitness as we know it canceled for good? Not at all! You may need to change your previous thoughts on what fitness is supposed to look like, to what it could look like.
As things continue to change, people need the guidance and expertise that gyms and fitness professionals provide. Even if members decide not to come back to the gym you should be ready and willing to adapt to the new fitness landscape and provide new alternatives for your members.
Examples of these are outdoor training or virtual workouts, that you were perhaps not planning to provide at the beginning of 2020.
Outdoor fitness classes have emerged as a new trend during the pandemic when fitness businesses had to go into full lockdown. While being forced to isolation, home office-ing, and social distancing, it feels good to be able to work out in an open space.
You can schedule small group workouts and engage with your clients in HIIT classes or by creating ad-hoc fitness challenges they can do outdoor, complying with COVID-19 safety measures.
Working out outside is a cost-effective way for studios and gyms to offer their workout in more places than just the gym or the digital classes.
By hosting outdoor classes you will also help members maintain their health and fitness while fostering a sense of community with the other gym-goers they have come to know in your in-presence gym classes. The only difference? The location.
With more people feeling the stress the pandemic brings, exercise is an important way to maintain health and well-being.
Why is physical activity important during COVID-19?
We have already brought to your attention the Fitness Act promoted by IHRSA in the attempt to highlight the importance of fitness businesses during the pandemic.
Whether online or in-person, the service you provide can assist in people's physical and mental health. Although times are stressful, people will look for an outlet. You can be that outlet and provide an essential service for your community and members.
1. 40.52% of Americans gained weight during the pandemic
Working out is essential to good health. However, the shutdown of gyms and fitness facilities has harmed people's health.
While stuck at home, many people have adopted new dietary habits which have led to higher calorie consumption and less healthy meal options. With the increasing number of people that are now working from home, it is even harder to combat a sedentary lifestyle and join a healthy lifestyle.
According to  a survey from RunRepeat , in the U.S. 40% of people have gained weight over the course of the pandemic, with 71% of those people gaining over 5 pounds. Unfortunately, women have been more susceptible than men being about 14% more likely to have gained weight.
[caption id="attachment14329" align="aligncenter" width="681"]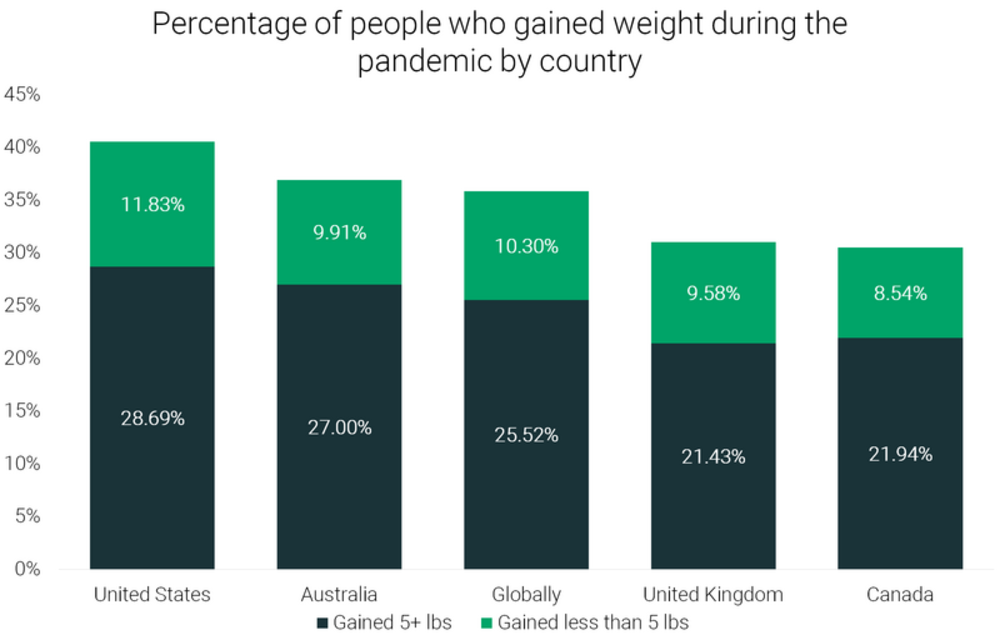 _Source: RunRepeat[/caption]
Without a consistent exercise routine, people will continue to suffer the negative physical consequences of the pandemic. Increasing our exercise will have a positive impact on people's ability to lose weight and stay physically healthy.
Some countries have already started to highlight the importance of exercising and staying fit during this time.
Thanks to a partnership between ukactive, NHS England and Improvement (NHSE/I), Sport England, and the National Academy for Social Prescribing, the U.K. government has launched an initiative to provide one hundred thousand people with free gym sessions , as studies have proved the crucial role exercise plays in the health of U.K. citizens.
2. Mental and emotional health can be improved through exercise
Exercise has a powerful effect on mental health. The feelings of uncertainty around people's health and finances have led to anxiety, stress, and fear. Isolation and boredom have also harmed people's mental well-being.
This chronic stress affects people's bodies and mental states, but exercise is an effective treatment for depression, anxiety, and stress. A research carried out by Professor Jinger Gottschall found that new-generation yoga plays an important role in recovering from stress and boosting positive feelings. According to the study, participants who incorporate 30-40-minute sessions of stretching and meditation three times a week, improved sleep and cardiovascular health.
Professor Jinger Gottschall states :
The study's findings show that new-generation yoga is a useful active recovery solution for improving physical and mental health, with participants reporting feeling more positive, confident, and motivated.
Maintaining a consistent exercise routine can increase people's sense of well-being and help them feel more relaxed and positive through these uncertain times.
Another study regarding the impact of exercise on psychological health during the coronavirus pandemic showed that a regular exercise routine is a key approach to maintaining one's clear-mindedness during a forced rest period like the lockdowns.
3. The social benefits of exercise
Some studies have tentatively said that there is a relatively low risk of catching COVID-19 at gyms. In fact, studies have shown that the risk of contracting the virus will remain low if gyms continue to enforce the social distancing guidelines that are currently in place.
Many fitness clubs went online to keep their business run and found ways to virtually engage and actively communicate with their members , but the lack of social interactions can affect mental and physical well-being, plus we all know gyms are a great place to meet people and socialize (at a distance!).
Since the lockdown, people are almost three times more likely to have experienced loneliness during the coronavirus outbreak, with almost 30.9% of people reporting being affected and feeling lonely during the pandemic.
The good news is that exercise classes can reduce loneliness and help cope with the stress caused by isolation.
Still looking for nifty ways to get your members more involved with your gym or studio amid the pandemic? Check out our six surefire ways to reach out and retain your members in 2021 .